Why Exhibit?
Face-2-Face is the Most Cost Effective Way
to Develop New Customers
Southwest

Design-2-Part Show
Grapevine (Dallas), TX • March 13 & 14, 2019
Gaylord Texan Convention Center
Wednesday 9:30 – 3:30 • Thursday 9:30 – 3:00
About the Show:
Get immediate business—62% of last year's visitors were looking to purchase within 6 months.
The only tradeshow in the region to exclusively feature exhibitors who specialize in design & contract manufacturing.
Hosted at the Gaylord Texan Resort & Convention Center, this state-of-the-art facility has many business amenities and plenty of free on-site parking for attendees and exhibitors.
No union fees or extra drayage costs.
The Region at a Glance:
Texas is currently home to 21,385 manufacturing companies employing 1,241,379 workers. (Manufacturers' News Inc.)
In 2018, for the 14th consecutive year, Texas was named "Best State for Business." (Chief Executive Magazine)
In the 2017 "Most Competitive (U.S.) Cities" report, the Dallas-Fort Worth area ranked number two in Aerospace, three in Machinery, and five in Automotive. (Site Selection)
The Dallas-Fort Worth Metroplex holds about 43% of the state's high-tech workers. (Greater Dallas Chamber of Commerce)
The "Telecom Corridor" is a technology business center in nearby Richardson, TX with more than 5,700 companies, including 600 technology companies. (Wikipedia)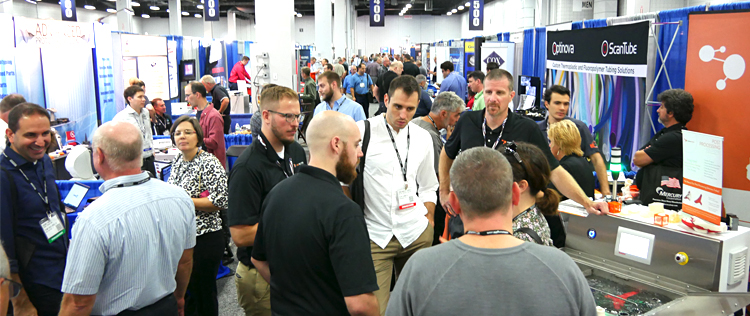 View or Download Floor Plan PDF
Promotional Radius to Include:
Texas, Oklahoma, Arkansas and Louisiana
Exclusive Promotion…
The only tradeshow in the region to exclusively feature exhibitors who specialize in design and contract manufacturing services
Partial List of
Regional Attendees
ABBOTT LABORATORIES
ACS HYDRAULICS
ALCATEL-LUCENT
ALCON
ALPINE ITW
APPLIED OPTICS CENTER
ARRICK ROBOTICS
AVIGILON
BAKER HUGHES
BELL HELICOPTER TEXTRON
CATERPILLAR GLOBAL MINING
CHATSWORTH PRODUCTS
COMMSCOPE
CONTINENTAL AUTOMOTIVE
CORNING
EATON
ELBIT SYSTEMS OF AMERICA
EMERSON
EXISS / SOONER TRAILERS
FLEX MEDICAL
FLEXTRONICS
FORUM ENERGY TECHNOLOGIES
GENERAL DYNAMICS
GENESYS AEROSYSTEMS
GIBRALTAR INDUSTRIES
GOODMAN MFG
HALLIBURTON
HILITE INTL
HONEYWELL
INGERSOLL CUTTING TOOLS
KLEIN TOOLS
KONE ELEVATORS
KPS GLOBAL
LEGGETT & PLATT
LENNOX IND
LOCKHEED MARTIN
LUMINATOR
MARLOW INDUSTRIES
MCR OIL TOOLS
METCON INC
OIL STATES INDUSTRIES INC
OWEN OIL TOOLS
PANASONIC
PETERBILT MOTORS
PRECISION PAK HYDRAULICS
QC GROUP LLC
QORVO SEMICONDUCTOR
RAYTHEON
RECARO AIRCRAFT SEATING
ROCHESTER GAUGES INC
ROCKWELL MEDICAL INC
SANDEN VENDO AMERICA
SES CORP
SIEMENS
STANDARD MOTOR PROD
TEXAS INSTRUMENTS
THOMAS INSTRUMENT
VARIOSYSTEMS INC
WATCHGUARD VIDEO
ZODIAC AEROSPACE


Proven Results...
% Based on 2018 Grapevine Show
Attendee Profile
(Engineering, Purchasing, Corp. Mgmt.)
Final Decision
33.1%
Significant Influence
29.3%
Recommend Vendors
20.2%
83% Involved in the Decision to Outsource
Regional Attendance
| | |
| --- | --- |
| Grapevine, TX 2018 | 1,229 |
| Grapevine, TX 2017 | 1,175 |
| Grapevine, TX 2016 | 1,104 |
| Grapevine, TX 2015 | 917 |
Top Industries Represented
Aerospace/Aviation
16.6%
Electronics
Electronics Mfg., Computers/Subsystems,
Instrumentation & Controls
16.2%
Automotive
5.6%
Machinery
5.4%
Energy/Utilities
5.1%
Medical
4.5%
Telecommunications
3.6%
Government/Defense
3.5%
Transportation Equipment
1.9%