Why Exhibit?
Face-2-Face is the Most Cost Effective Way
to Develop New Customers
Southern California

Design-2-Part Show
Pasadena, CA • October 9 & 10, 2019
Pasadena Convention Center
Wednesday 9:30 – 4:00 • Thursday 9:30 – 3:00
About the Show:
Get immediate business—62% of last year's visitors were looking to purchase within 6 months.
Meet the decision makers—65% of attendees of the last show had final decision or significant influence.
Ideally positioned in the fall when no other competitive shows are in the region. All other manufacturing shows are held in the spring.
Easiest set-up and breakdown of any trade show in the region–no union fees or extra drayage costs.
The Region at a Glance:
California leads the nation with 25,440 manufacturers employing over 1,560,263 workers. (Manufacturers' News)
California is the #1 state in manufacturing output. (NAM)
California ranked #1 in "Top States – New Tech Startups and Business Establishments". (CompTIA Properties)
Southern California has 3 cities in the top 30 U.S. cities by number of industrial jobs with Los Angeles #5, San Diego #10, and Irvine #29. (Manufacturers' News)
Southern California accounts for 61% of the state's industrial employment. (Manufacturers' News)
Los Angeles ranked 3rd in "Top Metros Exceeding U.S. Job Growth Expectations". (Career Builder & EMSI)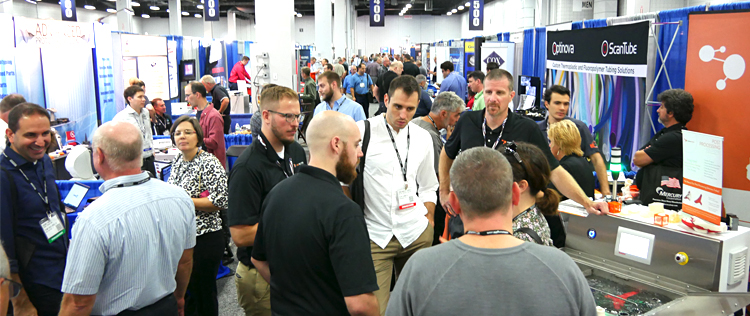 Promotional Radius to Include: California, Nevada, and Arizona.
Exclusive Promotion…
The only tradeshow in the region to exclusively feature exhibitors who specialize in design and contract manufacturing services.
Easy Access to the Show…
Hosted at the Pasadena Convention Center, a state-of-the-art facility with plenty of onsite parking for attendees and exhibitors. Click here to view a map of the area.
Partial List of
Regional Attendees
ACCLAIM LIGHTING
ACORN ENGRNG
ADAMS RITE AEROSPACE
ADEL WIGGINS GROUP
ADVANCED MEDICAL OPTICS
ALCON LAB
APPLIED MEDICAL
ARTHROCARE CORP
B/E AEROSPACE
BAXTER
BECKMAN COULTER INC
BF GOODRICH AEROSPACE
BLACK & DECKER
BOEING
BROADCOM CORP
CUSTOM CONTROL SENSORS
DECO LIGHTING
DELPHI
EASTON SPORTS
EATON AEROSPACE
EDWARDS LIFE SCIENCES
ELLISON EDUCATIONAL EQUIP
FAGOR AUTOMATION CORP
FLOWSERVE
GENERAL MONITORS
GULFSTREAM AEROSPACE
HAAS AUTOMATION INC
HARTWELL CORP
HONDA PERFORMANCE DEV
HONEYWELL
HUTCHINSON AEROSPACE
KARL STORZ IMAGING
KAWASAKI MOTORS CORP USA
MATTEL INC
MAXON LIFT CO
MEDTRONIC
MEGGITT
NEWPORT CORP
NORTHROP GRUMMAN
OAKLEY
ORIENTAL MOTOR USA
PANASONIC AVIONICS
RAYTHEON
ROBINSON HELICOPTER
ROCKETDYNE
ROCKWELL COLLINS
ROYAL TRUCK BODY
SPACE X
TANDEM DIABETES
TAYLOR GUITARS
TE CONNECTIVITY
TELEDYNE
THALES AVIONICS INC
THE TORO CO
THERMO FISHER SCIENTIFIC
UTC AEROSPACE
WESTERN DIGITAL
ZEBRA TECHNOLOGIES
ZIMMER DENTAL
ZODIAC AEROSPACE


Proven Results...
% Based on 2015 Pasadena, CA Show
Attendee Profile
(Engineering, Purchasing, Corp. Mgmt.)
Final Decision
35.7%
Significant Influence
29.2%
Recommend Vendors
22.3%
87% Involved in the Decision to Outsource
Regional Attendance
| | |
| --- | --- |
| Long Beach, CA 2018 | 1,859 |
| Long Beach, CA 2016 | 1,673 |
| Pasadena, CA 2015 | 1,307 |
| Long Beach, CA 2014 | 1,781 |
Top Industries Represented
Aerospace/Aviation
21.9%
Electronics
Electronics Mfg., Computers/Subsystems,
Instrumentation & Controls
14.8%
Medical
8.8%
Automotive
8.7%
Machinery
4.4%
Energy/Utilities
3.0%
Government/Defense
2.5%

Hardware
2.2%
Telecommunications
1.7%
Appliance
1.5%