Why Exhibit?
Face-2-Face is the Most Cost Effective Way
to Develop New Customers
Mid-Atlantic

Design-2-Part Show
Oaks, PA • October 23 & 24, 2019
Greater Philadelphia Expo Center
Wednesday 9:30 – 3:00 • Thursday 9:30 – 3:00
About the Show:
Get immediate business—61% of last year's visitors were looking to purchase within 6 months.
Updated floor plan for improved traffic flow.
No union fees or extra drayage costs.
The Region at a Glance:
Pennsylvania is home to 15,561 manufacturers employing 777,273 workers and bordering New Jersey is home to 9,106 manufacturers employing 396,212 workers. (Manufacturers' News)
Southeast Pennsylvania has the largest share of the state's industrial employment with 42% or 329,169. (Manufacturers' News)
Pennsylvania ranked seventh in "Economic Growth Potential." (Business Facilities)
The region is a major center for the health care industry. GE Healthcare, Johnson & Johnson, Siemens Medical Solutions, GlaxoSmithKline, AstraZeneca, Wyeth, and Merck are just some of the large healthcare companies with operations in the region.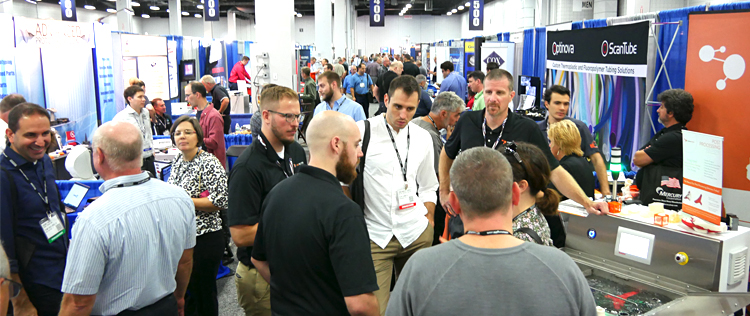 Promotional Radius to Include: Pennsylvania, New Jersey, New York, Delaware, Maryland and Virginia.
Exclusive Promotion…
The only tradeshow in the region to exclusively feature exhibitors who specialize in design and contract manufacturing services.
Easy Access to the Show…
Located in the Northwest Philadelphia suburb of Phoenixville, the Expo Center features a convenient central location with easy access from 8 major highways and plenty of free parking. Click here to view a map of the area.
Partial List of
Regional Attendees
ABBOTT POINT OF CARE
ADS/TRANSICOIL
ADVANCED SCIENTIFICS INC
AMETEK
ANIMAS CORP
AQUA PROD INC
ASCO NUMATICS
AVO PHOTONICS
B BRAUN MEDICAL INC
BECTON DICKINSON
BOEING
BOSCH REXROTH
BRANCH MEDICAL GROUP
BRISTOL MYERS SQUIBB
CANFIELD IMAGING SYS
CANNON INSTR CO
CLARK FILTER
COLGATE PALMOLIVE
EAST PENN MFG CO
ENDLESS POOLS
ETHICON INC
EXCELSIOR MEDICAL
FEDERAL MOGUL
GE HEALTHCARE / VITAL SIGNS
GENERAL DYNAMICS CORP
GLOBUS MEDICAL
GRACO CHILDRENS PROD
GREENE TWEED
INGERSOLL RAND
INNOVATIVE OFFICE PROD
JOHNSON & JOHNSON
KENSEY NASH CORP
LOCKHEED MARTIN
MANITOWOC CRANE GROUP
MARTECH MEDICAL
MICRO-COAX INC
MOOG COMPONENTS
MOTOROLA
NATIONAL PUBLIC SEATING
NORTHERN BUILDING PROD
PANDROL USA
PARKER HANNIFIN
PORTESCAP
READING TRUCK BODY
RESTEK CORP
ROTOR CLIP CO INC
SANDVIK COROMANT
SIEMENS HEALTHCARE
SOUTHCO INC
STAR DENTAL MFG
STREAMLIGHT INC
STRYKER CORP
SYNTHES
TE CONNECTIVITY
THOMAS MEDICAL PROD
THORLABS INC
TRUMPF PHOTONICS
UNILIFE MEDICAL
VEEDER-ROOT
VOLVO CONSTRUCTION EQUIP


Proven Results...
% Based on 2017 Oaks, PA Show
Attendee Profile
(Engineering, Purchasing, Corp. Mgmt.)
Significant Influence
30.7%
Final Decision
29.3%
Recommend Vendors
21.9%
82% Involved in the Decision to Outsource
Regional Attendance
| | |
| --- | --- |
| Oaks, PA 2017 | 1,421 |
| Oaks, PA 2015 | 1,236 |
| Oaks, PA 2013 | 1,211 |
| Oaks, PA 2011 | 1,329 |
Top Industries Represented
Electronics
Electronics Mfg., Computers/Subsystems,
Instrumentation & Controls
16.8%
Medical
10.8%
Aerospace/Aviation
9.7%
Automotive
6.8%
Machinery
6.1%
Government/Defense
4.7%

Energy/Utilities
3.8%
Transportation Equipment
1.7%
Hardware
2.3%
Telecommunications
1.6%