Why Exhibit?
Face-2-Face is the Most Cost Effective Way
to Develop New Customers
Upper Midwest

Design-2-Part Show
Minneapolis, MN • June 5 & 6, 2019
Minneapolis Convention Center
Wednesday 9:30 – 3:00 • Thursday 9:30 – 3:00
About the Show:
Get immediate business—55% of the 2018 show visitors were looking to purchase within 6 months.
Meet the decision makers—51% of attendees of the last show had final decision or significant influence.
The only tradeshow in the region to exclusively feature exhibitors who specialize in manufacturing services.
Hosted at the Minneapolis Convention Center, a state-of-the-art facility equipped with many business amenities and services.
No union fees or extra drayage costs.
The Region at a Glance:
Minnesota is home to 8,825 manufacturers employing 469,296 workers. 52% of the workers are in East Central Minnesota where Minneapolis is. (Manufacturers' News)
Minnesota's manufactured exports totaled $20.6 billion in 2017 with optic and medical products as the leading industry and machinery second. (MN Dept. of Employment & Economic Development)
Minnesota ranked first in number of medical device patents granted. (MN Dept. of Employment & Economic Development)
In the 2017 "Top States for Business" report, Minnesota ranked number three overall and number five in Technology & Innovation. (CNBC)
The "Twin Cities" of Minneapolis and St. Paul combined become the No. 4 ranked U.S. city by number of industrial jobs. (Manufacturers' News)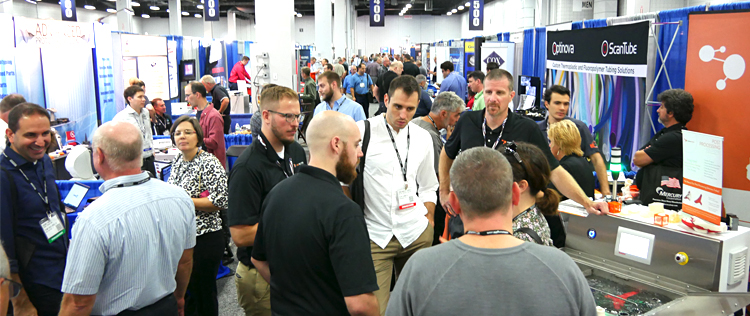 View or Download Floor Plan PDF
Promotional Radius to Include: Minnesota, Wisconsin, and Iowa
Exclusive Promotion…
The only tradeshow in the region to feature exhibitors who specialize in design and contract manufacturing services
Easy Access to the Show…
The Minneapolis Convention Center is conveniently located near three major highways and just 20 minutes from The Minneapolis/St. Paul Airport-Delta Airlines' third largest hub. Click here to view a map of the area.
Partial List of
Regional Attendees
3M
ABBOTT
AMERICAN TIME
ANDERSEN WINDOWS
BANNER ENGINEERING
BECKMAN COULTER
BOSCH COMMUNICATIONS
BOSTON SCIENTIFIC
BRIGGS & STRATTON CORP
CATERPILLAR
COLDER PRODUCTS COMPANY
CUMMINS POWER SYSTEMS
DAIKIN APPLIED
DONALDSON CO INC
EATON
ECOLAB
EMERSON
ENTRUST DATACARD
FEDERAL CARTRIDGE COMPANY
FIRESTONE BUILDING PROD
GARLOCK EQUIPMENT CO
GRACO
HONEYWELL INTERNATIONAL
IBM CORPORATION
KOHLER COMPANY
MEDTRONIC
MINCO PRODUCTS INC
MINNETRONIX
NONIN MEDICAL INC
NYSTROM
OLYMPUS
PARKER HANNFIN CORP
PENTAIR
PHILLIPS & TEMRO
POLARIS INDUSTRIES
RAILWAY EQUIPMENT COMPANY
ROSEMOUNT AEROSPACE
SC JOHNSON
SEAGATE TECHNOLOGY
SENSATA TECHNOLOGIES
SMITHS MEDICAL
STRATTEC SECURITY CORP
TE CONNECTIVITY
TENNANT COMPANY
THE TORO COMPANY
TRANE
TURCK INC
UPONOR
UTC - AEROSPACE SYS
VADDIO
VASCULAR SOLUTIONS
VISTA OUTDOOR
WAGNER SPRAYTECH
WANNER ENGINEERING INC
ZEISS


Proven Results...
% Based on 2018 Minneapolis, MN Show
Attendee Profile
(Engineering, Purchasing, Corp. Mgmt.)
Final Decision
22.1%
Significant Influence
28.8%
Recommend Vendors
23.7%
75% Involved in the Decision to Outsource
Regional Attendance
| | |
| --- | --- |
| Minneapolis, MN 2018 | 1,056 |
| Minneapolis, MN 2017 | 1,256 |
| Minneapolis, MN 2015 | 1,083 |
Top Industries Represented
Electronics


Electronics Mfg., Computers/Subsystems Instrumentation & Controls

16.6%
Machinery
9.4%
Medical
8.3%
Automotive
7.4%
Aerospace/Aviation
5.0%
Hardware
3.2%
Transportation Equipment
2.9%

Heating & Cooling
2.0%
Energy/Utilities
1.8%