Why Exhibit?
Face-2-Face is the Most Cost Effective Way
to Develop New Customers
Midwest

Design-2-Part Show
Indianapolis, IN • November 6 & 7, 2019
Indiana Convention Center
Wednesday 9:30 – 3:30 • Thursday 9:30 – 3:00
About the Show:
Get immediate business—54% of the last show's visitors were looking to purchase within 6 months.
Meet the decision makers—57% of the attendees to the last show had final decision or significant influence.
No union fees or extra drayage costs.
The Region at a Glance:
Indiana is home to 9,498 manufacturing companies, employing 585,504 total workers. Since 2011, Indiana has added 41,357 jobs, or 7.6%. (Manufacturers' News)
Indiana ranked the #7 state for "Best Business Climate" and #3 for "Automotive Manufacturing Strength". (Business Facilities)
Indiana's job gains were led by the transportation equipment industry which added 5.2% to its workforce in the past year. (Manufacturers' News)
Indiana is within a one-day drive of 80% of the U.S. population. The median center of U.S. population has fallen within Indiana since 1950. (Indy Partnership)
Indianapolis ranks first in the state for manufacturing jobs with 73,071 workers or 12.5%. (Manufacturers' News)
Indianapolis ranked #5 city in the nation for "High Tech Industry Job Growth". (Forbes)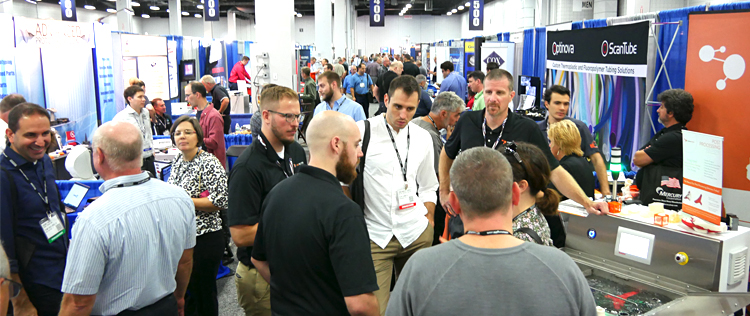 Promotional Radius to Include: Indiana, Ohio, Illinois, and Kentucky.
Exclusive Promotion…
The only tradeshow in the region to exclusively feature exhibitors who specialize in design and contract manufacturing services.
Easy Access to the Show…
Four interstate highways intersect in central Indiana, making the Indianapolis Region the leading metro area in America with direct interstate access to other markets. Click here to view a map of the area.
Partial List of
Regional Attendees
ACLARA INC
AERO FLUID PRODUCTS
AISIN DRIVETRAIN INC
ALLEGION
ALLISON TRANSMISSION
ALTRONIC
APPLIED MEDICAL TECHNOLOGY
AUTOMATIC POOL COVERS
BANJO CORPORATION
BATESVILLE CASKET CO
BEAR ARCHERY
BECKMAN COULTER
BORG WARNER
CATERPILLAR
COMMERCIAL VEHICLE GROUP
CRI MEDICAL
CUMMINS
DELPHI
DELTA FAUCET COMPANY
DOW AGROSCIENCES
DUBOIS WOOD PRODUCTS
ELI LILLY AND COMPANY
FAURECIA CLEAN MOBILITY
FIAT CHRYSLER
FREEMAN CO
HELMER SCIENTIFIC
HILL ROM
HONDA MFG OF INDIANA
INDIANA HYDRAULIC
JASPER ENGINES
JAYCO INC
KEIHIN NORTH AMERICA
KIMBALL INTERNATIONAL
KYB AMERICAS CORPORATION
LIPPERT COMPONENTS
MAGNA POWERTRAIN
MARIAN INC
MITSUBISHI TURBOCHARGER
MOLEX
NATIONAL OFFICE FURNITURE
NORTH AMERICAN SUBARU INC
NSK CORPORATION
OERLIKON FAIRFIELD
PRAXAIR INC
PRECISION TURBO & ENGINE
RAYTHEON
RIDETECH
ROCHE DIABETES CARE INC
ROLLS ROYCE
SABIC
SMC CORPORATION
SONACARE MEDICAL
SULLAIR
TOYOTA INDUSTRIAL EQUIP
TRANE COMPANY
VALEO ENGINE COOLING
WABASH NATIONAL
ZIMMER BIOMET


Proven Results...
% Based on 2017 Indianapolis Show
Attendee Profile
(Engineering, Purchasing, Corp. Mgmt.)
Final Decision
25.0%
Significant Influence
32.0%
Recommend Vendors
22.2%
79% Involved in the Decision to Outsource
Regional Attendance
| | |
| --- | --- |
| Akron, OH 2018 | 1,368 |
| Indianaopolis, IN 2017 | 1,041 |
| Akron, OH 2016 | 1,099 |
| Covington, KY 2015 | 758 |
Top Industries Represented
Automotive
23.7%
Medical
9.1%
Electronics
Electronics Mfg., Computers/Subsystems,
Instrumentation & Controls
8.8%
Machinery
8.0%
Aerospace/Aviation
8.0%
Transportation Equipment
4.0%

Government/Defense
2.3%
Energy/Utilities
1.7%
Heating and Cooling
1.6%