Why Exhibit?
Face-2-Face is the Most Cost Effective Way
to Develop New Customers
Greater Chicago

Design-2-Part Show
Schaumburg, IL • May 8 & 9, 2019
Schaumburg Convention Center
Wednesday 9:30 – 4:00 • Thursday 9:30 – 3:30
About the Show:
Get immediate business – 55% of last year's visitors were looking to purchase within 6 months.
The only tradeshow in the region to exclusively feature exhibitors who specialize in design & contract manufacturing services.
Located in the Northwest Chicago suburb of Schaumburg in Cook County, the Schaumburg Convention Center features a convenient central location and plenty of free parking.
No union fees or extra drayage costs.
The Region at a Glance:
Illinois is home to 16,998 manufacturing companies, employing 791,525 total workers. (Manufacturers' News)
Illinois ranks fourth behind only California, Texas, and Ohio for "Total Manufacturing Output." (National Association of Manufacturers)
Since 2010, Illinois' manufactured goods exports grew 18.5%, while the national average increased 14.9% (National Association of Manufacturers)
Northeast Illinois accounts for just over 71% of the state's manufacturing employment. (Manufacturers' News)
Over half of all manufacturing jobs in the Northeast region are in Cook County where Schaumburg is located. (Manufacturers' News)
Chicago ranked 4th in U.S. "The World's Most Competitive-Machinery & Equipment". (Site Selection Magazine)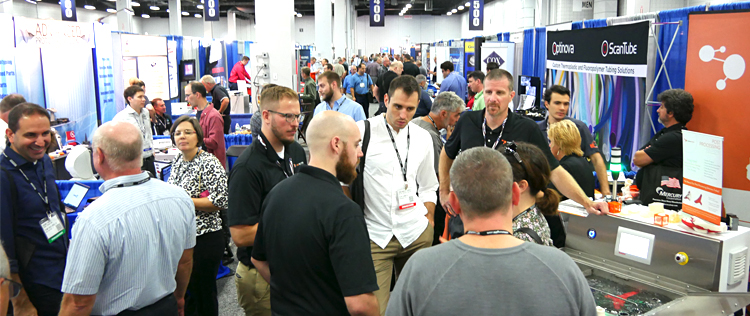 View or Download Floor Plan PDF
Promotional Radius to Include:Illinois, Wisconsin, Indiana, Michigan, Minnesota, & Iowa
Exclusive Promotion…
The only tradeshow in the region to exclusively feature exhibitors who specialize in design and contract manufacturing services
Easy Access to the Show…
The Schaumburg Convention Center is within convenient access to I-90 and I-290/53 and is just 12 miles from O' Hare Airport. Click here to view a map of the area.
Partial List of
Regional Attendees
ALCATEL-LUCENT
BAXTER HEALTHCARE
BIMBA MFG CO
BRIGGS & STRATTON
BRUNO LIVING AIDS
BUEHLER
CATERPILLAR
CHAMBERLAIN GROUP
CHICAGO FAUCETS
CLOVER TECH GROUP
CONTINENTAL AUTOMOTIVE SYS
CUMMINS-ALLISON CORP
CURTISS-WRIGHT
DAYTON SUPERIOR
DELTROL FLUID PROD
DYNAMIC TRANSMISSIONS INC
EATON
ELGIN SWEEPER
ETYMOTIC RESEARCH INC
FEDERAL-MOGUL CORP
FOCAL POINT
FORD MOTOR CO
FREEDMAN SEATING CO
G&W ELECTRIC CO
HONEYWELL INC
HU-FRIEDY MFG
JOHN DEERE
JOHNSON CONTROLS
KOHLER CO
LIFE FITNESS
MAGNET-SCHULTZ OF AMERICA
MAZAK OPTONICS CORP
MEDLINE INDUSTRIES
MIDTRONICS
MILWAUKEE TOOL
MITSUBISHI ELECTRIC
MOLEX
MOTOROLA SOLUTIONS
NAVISTAR
NOKIA
OMRON
OSRAM SYLVANIA
OTTO ENGINEERING
PANDUIT
PARKER HANNIFIN
PENTAIR
PRINCE CASTLE
ROBERT BOSCH TOOL CORP
ROBERTSHAW CONTROLS
ROCKWELL AUTOMATION
SE-KURE CONTROLS
SHURE INC
SIEMENS
SIGNICAST
SPRAYING SYSTEMS
STRATTEC SECURITY CORP
SWITCHCRAFT INC
WAHL CLIPPER CORP
WEBER STEPHEN PRODUCTS
XYLEM INC


Proven Results...
% Based on 2018 Schaumburg, IL Show
Attendee Profile
(Engineering, Purchasing, Corp. Mgmt.)
Final Decision
25.3%
Significant Influence
28.8%
Recommend Vendors
22.7%
77% Involved in the Decision to Outsource
Regional Attendance
| | |
| --- | --- |
| Schaumburg, IL 2018 | 2,000 |
| Schaumburg, IL 2017 | 2,120 |
| Schaumburg, IL 2016 | 2,221 |
| Schaumburg, IL 2015 | 1,976 |
Top Industries Represented
Electronics


Electronics Mfg., Computers/Subsystems Instrumentation & Controls

14.2%
Automotive
13.9%
Machinery
9.4%
Medical
6.0%
Aerospace/Aviation
4.7%
Transportation Equipment
2.6%

Appliance
2.4%
Hardware
2.2%
Energy/Utilities
2.2%