Why Exhibit?
Face-2-Face is the Most Cost Effective Way
to Develop New Customers
Southern New England

Design-2-Part Show
Uncasville, CT • April 24 & 25, 2019
Mohegan Sun Exposition Center
Wednesday 9:30 – 4:00 • Thursday 9:30 – 3:00
About the Show:
Get immediate business – 55% of the visitors to the 2018 Marlborough Show were looking to purchase within 6 months.
Meet the decision makers – 57% of attendees of the last show had final decision or significant influence.
The only tradeshow in New England to exclusively feature exhibitors who specialize in design & contract manufacturing services.
Easiest set-up and breakdown of any tradeshow in the region — no union fees or extra drayage costs at Mohegan Sun.
Free on-site parking at Mohegan Sun for attendees and exhibitors.
Fabulous D2P hotel rate in brand new Mohegan Sun Earth Tower of $149/night.
This show is not replacing our annual Marlborough show.
The Region at a Glance:
Connecticut is now home to 4,946 manufacturers employing 205,425 workers. This is the second straight year for an uptick in manufacturing employment for Connecticut. (Manufacturers' News)
Rhode Island's 1,596 manufacturers employ 58,283 in the state. RI has added 2% industrial jobs over the last 5 years. (Manufacturers' News)
If combined, the six New England states would be the 7th largest state in manufacturing output while only being the 18th largest state in area. (NAM)
Combined, New England would also be the 3rd largest state with 19,809 manufacturing plants and the 4th largest with 815,104 manufacturing jobs. (Manufacturers' News)
Hartford, CT ranked 3rd in U.S. in "The World's Most Competitive Cities – Aerospace Product & Part Manufacturing". (Site Selection Magazine)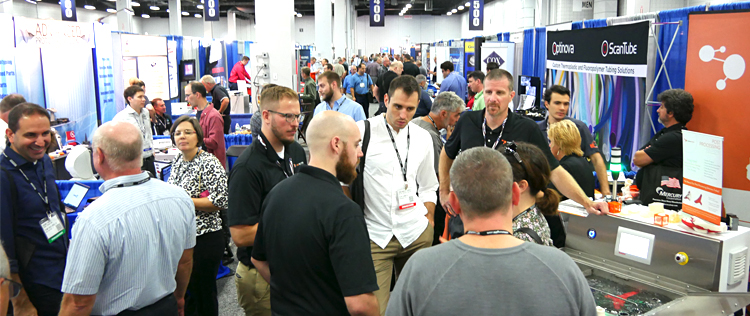 View or Download Floor Plan PDF
Promotional Radius to Include: Connecticut, Rhode Island, Massachusetts, New Hampshire, Vermont, Maine, and New York.
Exclusive Promotion…
The only tradeshow in the region to exclusively feature exhibitors who specialize in design and contract manufacturing services
Easy Access to the Show…
Three convenient area airports in Providence, RI (52 miles), Hartford, CT (57), and Boston, MA (108)
Partial List of
Regional Attendees
3M
ACUSHNET CO
APPLIED MATERIALS
ATLAS DEVICES
AXCELIS TECHNOLOGIES
BAE SYSTEMS
BARRY CONTROLS INC
BOSE CORPORATION
BOSTON SCIENTIFIC
BROOKFIELD AMETEK
BROOKS AUTOMATION INC
BRUKER CORP
CARDINAL HEALTH
CELERA MOTION
CEQUR
COBHAM
CORTRON INC
DAVID CLARK CO INC
EVOQUA WATER TECHNOLOGIES
FLIR SURVEILLANCE CO INC
GE HEALTHCARE
GENTEX OPTICS
GUARDAIR CORP
HITEC SENSOR DEVELOPMENTS
HOLOGIC INC
HONEYWELL
HORIZON TECHNOLOGY
HUSSEY SEATING
HUTCHINSON AEROSPACE & IND
IDEX HEALTH & SCIENCE
IMAGE STREAM MEDICAL
IPG PHOTONICS
IWAKI AMERICA
KAHR ARMS
KAMAN CORP
KARL STORZ
KEURIG GREEN MOUNTAIN
LEGRAND
LS STARRETT
MEDTRONIC
MILLIPORE SIGMA
MKS INSTRUMENTS
NEXCELOM BIOSCIENCE
NOVAMETRIX MEDICAL SYS
NRG SYSTEMS
NUVERA FUEL CELLS
OTIS ELEVATOR
PARKER HANNIFIN CORP
QINETIQ
RAYTHEON CO
RIGAKU ANALYTICAL DEVICES
ROCKWELL AUTOMATION
SAVAGE ARMS
SEALED AIR CORP
SYNQOR
THERMOFISHER SCIENTIFIC
UNITED TECH RESEARCH
VELCRO GROUP CORP
WATERS CORP
ZOLL MEDICAL


Proven Results...
% Based on 2018 Marlborough, MA Show
Attendee Profile
(Engineering, Purchasing, Corp. Mgmt.)
Final Decision
26.8%
Significant Influence
37.5%
Recommend Vendors
22.9%
80% Involved in the Decision to Outsource
Regional Attendance
| | |
| --- | --- |
| Marlborough, MA 2018 | 1,857 |
| Marlborough, MA 2017 | 1,677 |
| Marlborough, MA 2016 | 1,847 |
| Marlborough, MA 2015 | 1,611 |
Top Industries Represented
Electronics


Electronics Mfg., Computers/Subsystems Instrumentation & Controls

18.2%
Medical
12.7%
Aerospace/Aviation
9.1%
Machinery
7.0%
Automotive
4.1%
Government/Defense
6.2%
Energy/Utilities
4.5%
Hardware
2.4%
Heating and Cooling
2.4%