Why Exhibit?
Face-2-Face is the Most Cost Effective Way
to Develop New Customers
Southeast

Design-2-Part Show
Charlotte, NC • November 13 & 14, 2019
Charlotte Convention Center
Wednesday 9:30 – 3:00 • Thursday 9:30 – 3:00
About the Show:
Get immediate business—59% of visitors to the last region's show were looking to purchase within 6 months.
Meet the decision makers—58% of attendees of the last show had final decision or significant influence.
Hosted at the Charlotte Convention Center, a state-of-the-art facility equipped with many business amenities and services.
Easiest set-up and breakdown of any trade show in the region – no union fees or extra drayage costs.
The Region at a Glance:
North Carolina is home to 9,702 manufacturers employing 573,006 workers. (Manufacturers' News)
Just 10 miles away, the state of South Carolina has 4,629 manufacturers employing 270,348 workers. 64% of the workers are in nearby Northwest South Carolina. (Manufacturers' News)
North Carolina ranked 2nd and South Carolina ranked 10th in "Top States Business Climate". (Site Selection Magazine)
North Carolina ranked 2nd in "Economic Growth Potential". (Business Facilities)
Charlotte ranked 5th in "The World's Most Competitive Cities – Machinery, Equipment, & Construction". (Site Selection Magazine)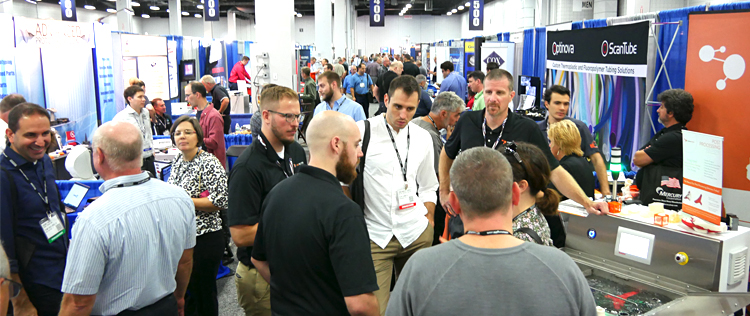 Promotional Radius to Include: North Carolina, South Carolina, Virginia, Georgia, Alabama, and Tennessee.
Exclusive Promotion…
The only tradeshow in the region to exclusively feature exhibitors who specialize in design and contract manufacturing services
Easy Access to the Show…
The Charlotte Convention Center is conveniently located off I-277 in Uptown Charlotte, just 7 miles from Charlotte International Airport, and connected to the NASCAR Hall of Fame. Click here to view a map of the area.
Partial List of
Regional Attendees
3D SYSTEMS
AAR CARGO SYS
ABB INC
ACROPRINT TIME RECORDER CO
AEROTEK
AMERICAN EMERGENCY VEH
AMETEK
ANDERSON HYDRA PLATFORMS
ASSOCIATED FUEL PUMP SYS
ATEX TECHNOLOGIES INC
ATI INDUSTRIAL AUTOMATION
ATLAS COPCO
B/E AEROSPACE
BALDOR ELECTRIC CO
BMW MFG
BORGWARNER TURBO SYSTEMS
BOSCH REXROTH
BOWE BELL & HOWELL
BUEHLER MOTOR INC
CATERPILLAR
CHARTER MEDICAL
CISCO SYSTEMS
CONTINENTAL AUTOMOTIVE SYS
CORNING INC
CREE INC
DAIMLER
DOOSAN INFRACORE PORTABLE
EATON
ELECTROLUX
FREUDENBERG PERFORMANCE
GENERAL ELECTRIC
HAYWARD IND
HONDA POWER EQUIPMENT
HONEYWELL
HYSTER-YALE GROUP
IKA WORKS
JOHN DEERE TURF CARE
KABA ILCO CORP
KIDDE AEROSPACE & DEFENSE
LEGRAND
LEVITON
MICHELIN
MOOG CMPNTS GROUP
NORTON DOOR CONTROLS
OTTO ENVIRONMENTAL SYS
PARKER HANNIFIN
SCHNEIDER ELECTRIC
SEALED AIR CORP
SIEMENS ENERGY
SNAP-ON TOOLS
STANLEY BLACK & DECKER
TELEFLEX MEDICAL
TRANSTECH
TYCO ELECTRONICS
VANGUARD PAILUNG
VOLVO TRUCKS
WESTROCK
ZOETIS


Proven Results...
% Based on 2017 Greenville, SC Show
Attendee Profile
(Engineering, Purchasing, Corp. Mgmt.)
Significant Influence
33.0%
Final Decision
25.3%
Recommend Vendors
20.7%
79% Involved in the Decision to Outsource
Regional Attendance
| | |
| --- | --- |
| Raleigh, NC 2018 | 891 |
| Charlotte, NC 2017 | 995 |
| Raleigh, NC 2016 | 733 |
Top Industries Represented
Automotive
17.2%
Machinery
11.6%
Electronics
Electronics Mfg., Computers/Subsystems,
Instrumentation & Controls
11.1%
Aerospace/Aviation
4.4%
Energy/Utilities
3.9%
Medical
3.9%
Telecommunications
3.5%

Heating and Cooling
3.2%
Government/Defense
2.8%