Southern New England

Design-2-Part Show
Uncasville, CT • April 24 & 25, 2024
Mohegan Sun Exposition Center
Wednesday 9:30 – 3:00 • Thursday 9:30 – 3:00
Market at a Glance:
As of 2023, the state of Connecticut is home to 4,189 manufacturers employing 200,071 workers. Some of these manufacturers include Electric Boat, Pratt and Whitney, Sikorsky, Collins Aerospace Systems, Medtronic, and Boehringer Ingelheim Pharmaceuticals. ~ Industry Select/MNI
Connecticut boasts a diverse manufacturing sector, making everything from high-tech aeronautics equipment and medical devices to semiconductor components and pharmaceuticals. Connecticut remains a top destination for high-tech and innovative enterprises. ~ Industry Select
Total manufacturing output in the state of Connecticut in 2021 equaled $34.88 billion. ~ NAM
In 2021, Aerospace and Medical Manufacturing were ranked the top two manufacturing sectors for growth. ~ NAM
If combined, the six New England states would be the 7th largest state in manufacturing output. ~ NAM
About the Show
Get immediate business – over 40% of the visitors from our 2023 shows were looking to purchase within 6 months.
Easiest set-up and breakdown of any trade show in the region—no union fees or extra drayage costs at Mohegan Sun.
Free on-site parking for attendees and exhibitors.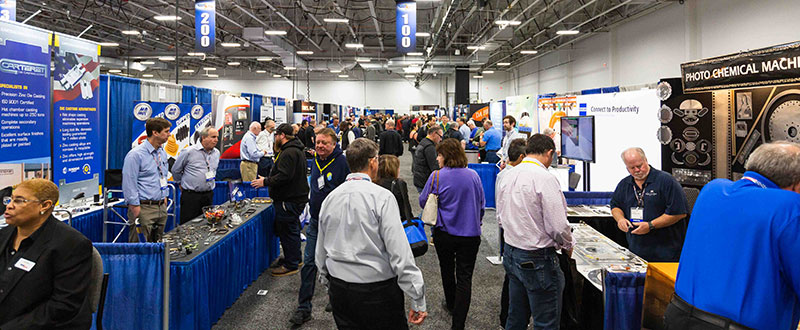 Promotional radius to include: CT, RI, MA, ME, NY, NH, and VT.
Exclusive Promotion…
The Earth Expo & Convention Center is the premier convention destination in the Northeast. The complex has been thoughtfully designed to provide a fully contained and distraction-free meeting experience, with all event areas positioned across the complex from our casino and entertainment offerings.

Partial List of
Regional Attendees
ABIOMED INC
ARBURG
ARTHUR G RUSSELL
ASHCROFT INC
BARNES AEROSPACE
BAUSCH ADVANCED TECHNOLOGIES
BLUECREST INC
COLLINS AEROSPACE
COOPERSURGICAL
CURTIS INDUSTRIES
DANBURY MISSION TECHNOLOGIES
DYMAX CORPORATION
DYNO NOBEL
EBM PAPST
EDGEWELL
ELECTRIC BOAT
ELECTRO-METHODS INC
ELJEN CORPORATION
EMERSON
FUELCELL ENERGY
GENERAL DYNAMICS
GERBER TECHNOLOGY
GLOBAL STEERING SYSTEM
HENKEL CORPORATION
HOLOGIC
HUBBELL INCORPORATED
IMI PRECISION ENGINEERING
JARVIS PRODUCTS CORP
KAMAN AEROSPACE
KARL STORZ ENDOVISION
KISTLER INSTRUMENTS
KONGSBERG AUTOMOTIVE
LEGRAND
LINEMASTER SWITCH CORP
MEDTRONIC
MELISSA & DOUG
MOTT CORPORATION
NAVSEA
NEL HYDROGEN
OTIS ELEVATOR CO
PARKER HANNIFIN
PERKIN ELMER
PITNEY BOWES
PRATT & WHITNEY
RADIO FREQUENCY SYSTEMS
RAYTHEON
RENISHAW INC
SCHAEFFLER AEROSPACE
SCHNEIDER ELECTRIC
SCHOTT NORTH AMERICA
SIKORSKY AIRCRAFT
SPECTRUM LIGHTING
SPIROL INTERNATIONAL
STANLEY BLACK & DECKER
THE LEE COMPANY
TRELLEBORG SEALING SOLUTIONS
TRIUMPH ENGINE CONTROL SYS
UNGER ENTERPRISES
UTC AEROSPACE
WATERS CORPORATION
WHELEN ENGINEERING
ZYGO CORPORATION

Proven Results...
% Based on 2022 Uncasville Show
Attendee Profile
(Engineering, Purchasing, Corporate Managment)
Significant Influence
34%
Final Decision
31%
Recommend Vendors
24%
89% Involved in the Decision to Outsource
Regional Attendance
| | |
| --- | --- |
| Uncasville, CT 2022 | 1,427 |
| Uncasville, CT 2021 | 1,539 |
| Uncasville, CT 2019 | 1,851 |
Top Industries Represented
Electronics
Electronics Mfg., Computers/Subsystems,
Instrumentation & Controls
10.5%
Aerospace/Aviation
9.8%
Medical
8.9%
Machinery
5.5%
Government/Defense
5.3%
Automotive
2.8%
Energy/Utilities
2.3%
Hardware
2.1%