Greater Chicago

Design-2-Part Show
Schaumburg, IL • May 8 & 9, 2024
Schaumburg Convention Center
Wednesday 9:00 – 4:00 • Thursday 9:00 – 3:30
Market at a Glance:
As of 2023, the state of Illinois is home to 14,660 manufacturers employing 735,084 workers, making it among the largest industrial states in the U.S. ~ Industry Select/MNI
Chicago remains the state's top industrial city by number of manufacturing jobs, accounting for 94,206 jobs. ~ Industry Select/MNI
Top manufacturing companies in Illinois include Ford Motor, Medline Industries, FCA US, AbbVie, Continental Tire, Allied Building Products, and Caterpillar. ~ Industry Select
Total manufacturing output in the state of Illinois in 2021 equaled $114.73 billion. ~ NAM
Chicago is the nation's manufacturing capital. ~ World Business Chicago
About the Show
Get immediate business – over 40% of the visitors from our 2023 shows were looking to purchase within 6 months.
No union fees or extra drayage costs. Free onsite parking for both exhibitors and attendees.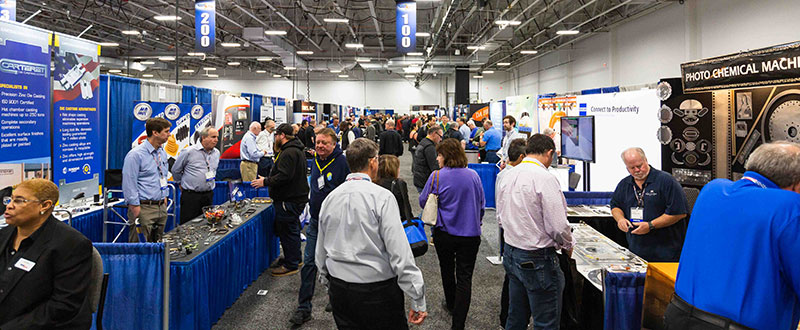 Promotional Radius to Include: Illinois, Wisconsin, Indiana, Michigan and Iowa.
Exclusive Promotion…
The Greater Chicago Design-2-Part Show is the only tradeshow in the region to exclusively feature exhibitors who specialize in design and contract manufacturing services.
Easy Access to the Show…
Located in the Northwest Chicago suburb of Schaumburg (Cook County), the Schaumburg Convention Center features a convenient central location and plenty of parking. Click here to view a map of the area.
Partial List of
Regional Attendees
ABBOTT LABS
AMITRON
BERGSTROM INC
BORG WARNER
BOSCH TOOL CORPORATION
BRIGGS AND STRATTON
CARDINAL HEALTH
CATERPILLAR INC
CE NIEHOFF
CNH INDUSTRIAL
CUMMINS ALLISON
DANFOSS DRIVES
DELTA POWER
DELTROL FLUID PRODUCTS
DYNAMIC MANUFACTURING
ELECTRI-FLEX COMPANY
ELGIN SWEEPER
ELKAY MANUFACTURING
EMERSON
FAIRBANKS MORSE DEFENSE
FAST RADIUS
FLEXCO
FREEDMAN SEATING
GRAYHILL INC
HARLEY DAVIDSON
HARTING
HENRY REPEATING ARMS
HYDRAFORCE
INTERMATIC
INVENTUS POWER
JOHN DEERE
KLEIN TOOLS
KOHLER
LEICA BIOSYSTEMS
MAGNET-SCHULTZ OF AMERICA
MARMON FOODSERVICE TECH
MBX SYSTEMS
MERCURY PRODUCTS
MIKUNI AMERICAN CORPORATION
MILWAUKEE TOOL
MOBILE MARK INC
MOLEX
MOTOROLA MOBILITY
NATIONAL POWER CORPORATION
NAVISTAR
OPTO INTERNATIONAL
OTTO ENGINEERING
PANDUIT
PARKER HANNIFIN
RICHARDSON SEATING
ROBERT BOSCH TOOL CORP
ROCKWELL
SE-KURE CONTROLS
SENIOR FLEXONICS
SHURE INC
SNAP-ON TOOLS
STERNBERG LIGHTING
STRYKER
WAHL CLIPPER CORP
ZEBRA TECHNOLOGIES
ZOLL MEDICAL


Proven Results...
% Based on 2023 Schaumburg, IL Show
Attendee Profile
(Engineering, Purchasing, Corporate Management)
Significant Influence
32.2%
Final Decision
31.6%
Recommend Vendors
27.8%
92% Involved in the Decision to Outsource
Regional Attendance
| | |
| --- | --- |
| Schaumburg, IL 2023 | 1,869 |
| Schaumburg, IL 2022 | 1,523 |
| Schaumburg, IL 2021 | 1,576 |
| Schaumburg, IL 2019 | 2,133 |
Top Industries Represented
Electronics


Electronics Mfg., Computers/Subsystems Instrumentation & Controls

11.3%
Automotive
9.0%
Machinery
7.3%
Medical
3.9%
Aerospace/Aviation
3.9%
Energy/Utilities
2.4%
Transportation Equipment
2.2%