Northern California

Design-2-Part Show
Santa Clara, CA • April 10 & 11, 2024
Santa Clara Convention Center
Wednesday 9:30 – 4:00 • Thursday 9:30 – 3:30
Market at a Glance:
As of 2023, the state of California is home to 23,078 manufacturers employing 1,385,974 workers. Total manufacturing output equaled $394.83 billion. ~ Industry Select/MNI
Santa Clara currently ranks #5 in the state in overall number of manufacturing jobs with 29,692. ~ Industry Select
California accounts for 14.5% of U.S. manufacturing output…and is still the largest contributor to the U.S. manufacturing industry – both in terms of output and employment. ~ CMTC
Top manufacturing companies in California include Northrop Grumman Aerospace International, General Atomics, Chevron, Raytheon, Jet Propulsion Laboratory, Lockheed Martin, and Intel. ~ Industry Select
Approximately 16% of all aerospace manufacturing jobs and 28% of all IT and analytical product manufacturing jobs in the U.S. are accounted for by the state of California. ~ CMTC
About the Show
Get immediate business – over 40% of the visitors from our 2023 shows were looking to purchase within 6 months.
Easiest set-up and breakdown of any trade show in the region – no union fees or extra drayage costs.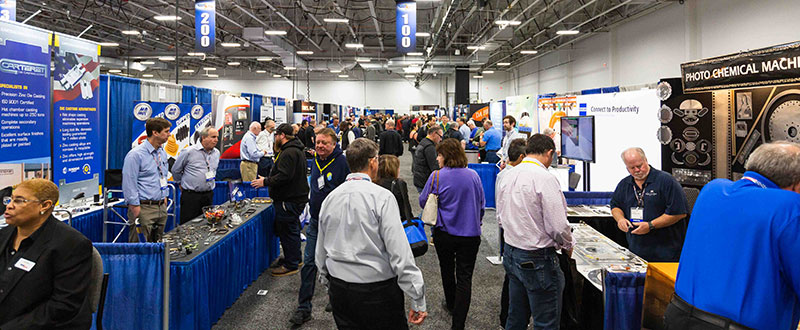 Promotional radius to include: California, Oregon, Washington, and Nevada.
Exclusive Promotion…
The Northern California Design-2-Part Show is The only trade show in the region to exclusively feature exhibitors who specialize in design and contract manufacturing services.
Easy Access to the Show…
In the heart of Silicon Valley with easy access from highways I-880, Rt. 237, I-101, Rt. 87, I-280, I-680, and just 5 miles from San Jose International Airport. Click here to view a map of the area.
Partial List of
Regional Attendees
AGILENT TECHNOLOGY
AISIN ELECTRONICS INC
ANALOG DEVICES
APPLE
APPLIED MATERIALS
ARISTA NETWORKS
AURIS HEALTH
BERKELEY LIGHTS
BIO-RAD LABORATORIES
BOSSA NOVA ROBOTICS
BROOKS AUTOMATION
CALMAX TECHNOLOGY
CARL ZEISS MEDITEC
CEPHEID
CISCO SYSTEMS
COHERENT INC
DEXTERITY
FLEX
GENMARK AUTOMATION
GOOGLE
HEWLETT PACKARD ENTERPRISE
INFINERA
INTEL CORPORATION
INTUITIVE SURGICAL
IPG PHOTONICS
JOBY AVIATION
JOHNSON & JOHNSON
LOCKHEED MARTIN
LUCID MOTORS
LUMENTUM
MAXAR
MOTIV POWER SYSTEMS
MOUNTZ INC
NOKIA
NVIDIA
OMNICELL INC
OMRON ROBOTICS AND SAFETY TEC
PRECISION FLUID CONTROLS
PROCEPT BIOROBOTICS
RAPID DISPLAYS
RAYTHEON
REVASUM
ROCHE SEQUENCING SOLUTIONS
SANDIA NATIONAL LABORATORIES
SANDISK CORP
SEAGATE TECHNOLOGY
SIERRA INSTRUMENTS
SMITHS DETECTION
SNAP-ON
SPACE SYSTEMS LORAL
SPECIFIC DIAGNOSTICS
STRYKER ENDOSCOPY
SUNRISE MEDICAL
TE CONNECTIVITY
TERADYNE
TESLA
THERMO FISHER SCIENTIFIC
THINK SURGICAL
TRIMBLE INC
UNIGEN
VARIAN MEDICAL SYSTEMS
WESTERN DIGITAL
YIELD ENGINEERING SYSTEMS
ZOOX


Proven Results...
% Based on 2022 Santa Clara, CA Show
Attendee Profile
(Engineering, Purchasing, Corporate Management)
Final Decision
34.4%
Significant Influence
33.0%
Recommend Vendors
26.7%
94% Involved in the Decision to Outsource
Regional Attendance
| | |
| --- | --- |
| Santa Clara, CA 2022 | 1,253 |
| Santa Clara, CA 2019 | 1,869 |
| Santa Clara, CA 2018 | 1,604 |
Top Industries Represented
Electronics
Electronics Mfg., Computers/Subsystems,
Instrumentation & Controls
19.6%
Medical
11.3%
Automotive
6.2%
Machinery
5.3%
Aerospace/Aviation
3.7%
Hardware
3.5%

Government/Defense
2.6%
Energy/Utilities
2.6%