Why Exhibit?
Face-2-Face is the Most Cost Effective Way
to Develop New Customers
Greater Detroit

Design-2-Part Show
Novi, MI • June 19 & 20, 2024
Suburban Collection Showplace
Wednesday 9:30 – 3:00 • Thursday 9:30 – 3:00
Market at a Glance:
"Manufacturers in Michigan account for 19.38% of the total output in the state, employing 14.20% of the workforce (6th highest in the nation). Total output from manufacturing was $102.35 billion in 2018." ~ NAM
Top Industries in the state of Michigan include: Advanced Manufacturing, Medical Device Technology/ Life Sciences, Automotive, and Semiconductor & Technology. ~ Michigan Economic Development Corporation
"Michigan has the 5th largest advanced manufacturing workforce in the country, with more than 65,000 workers employed in advanced manufacturing industries in 2019." ~ Michigan Economic Development Corporation
"Michigan was ranked first in "Automotive Manufacturing Strength" in Business Facilities Magazine's 2020 state rankings…96 of the top 100 automotive suppliers to North America have a presence in Michigan; 71 are headquartered in Michigan." ~ Michigan Economic Development Corporation
About the Show
Get immediate business – over 40% of the visitors from our 2023 shows were looking to purchase within 6 months.
Meet the decision makers – 65% of attendees made the final decision or had significant influence.
No union fees or extra drayage costs.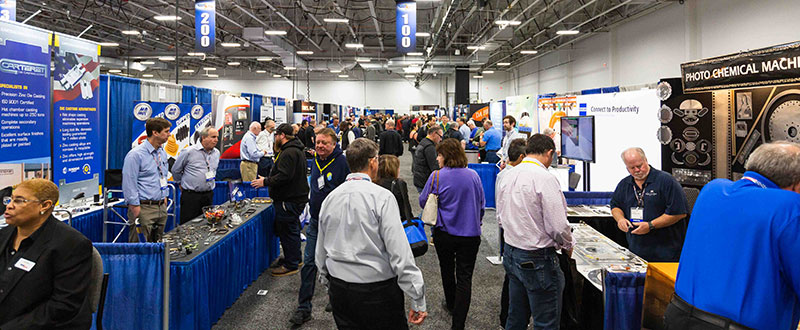 Promotional radius to include:
Michigan, Ohio, Indiana, and Illinois.
Exclusive Promotion…
The Greater Michigan Design-2-Part Show is the only trade show in the region to exclusively feature exhibitors who specialize in design and contract manufacturing services.
Easy Access to the Show…
Hosted at the Suburban Collection Showplace, a state-of-the-art facility equipped with many business amenities and services.
Click here to view a map of the area.
Partial List of
Regional Attendees
ACTIVE DYNAMICS
AIR LIFT COMPANY
AISIN
AMERICAN EXPEDITION VEHICLES
AMIGO MOBILITY INTERNATIONAL
AVL TEST SYSTEMS
BARRY AIR TOOL
BASF CORPORATION
BLUEWATER TECHNOLOGIES
BOSCH
CHRYSLER
CIGNYS
COMBI PACKAGING SYSTEMS
CONTITECH
CONVEYOR COMPONENTS COMPANY
CREATIVE TECHNIQUES INC
DETROIT DIESEL
DETROIT MANUFACTURING SYSTEMS
DEXSTAR WHEEL
DEXTECH
DIGITEK CORPORATION
EMATRIX ENERGY SYSTEMS
FERMILAB
FLEX N GATE
FLEXDEX SURGICAL
FORD MOTOR COMPANY
GAST MANUFACTURING
GENERAL FILTERS
GENERAL MOTORS
GENTEX CORP
GENTHERM
HUMANETICS
INCOE CORPORATION
IPG PHOTONICS
KURABE AMERICA CORP
LEAR CORP
LOC PERFORMANCE
MAAG REDUCTION INC
MAHLE POWERTRAIN
MATERIAL CONTROL INC
MAXITROL
MIDWAY PRODUCTS GROUP
MOLEX
NAVISTAR DEFENSE
NAVITAS SYSTEMS
NIKOLA MOTOR
PARKER HANNIFIN
PRATT & MILLER
PRECISION TURBO
ROUSH ENTERPRISES
SAMES NA
SIGNATA
STRYKER
SUMITOMO ELECTRIC CARBIDE
SUPPLY TECHNOLOGIES
TEIJIN AUTOMOTIVE TECHNOLOGIES
TRIJICON
TRION SUPERCARS
YAZAKI NORTH AMERICA
ZF NORTH AMERICA INC


Proven Results...
% Based on Novi 2023 Show
Attendee Profile
(Engineering, Purchasing, Corporate Managment)
Significant Influence
34.6%
Final Decision
31.0%
Recommend Vendors
27.1%
93% Involved in the Decision to Outsource
Regional Attendance
| | |
| --- | --- |
| Novi, MI 2023 | 1,273 |
| Indianapolis, IN 2023 | 1,264 |
| Akron, OH 2022 | 1,311 |
| Akron, OH 2021 | 1,030 |
Top Industries Represented
Automotive
35.0%
Machinery
5.7%
Electronics
Electronics Mfg., Computers/Subsystems,
Instrumentation & Controls
4.7%
Aerospace/Aviation
3.6%
Government
3.1%
Transportation Equipment
2.1%
Medical
2.0%