Texas

Design-2-Part Show
Irving, TX • March 13 & 14, 2024
Irving Convention Center
Wednesday 9:30 – 3:00 • Thursday 9:30 – 3:00
Market at a Glance:
With one of the best tax climates in the nation as well as a strong workforce and solid infrastructure, Texas remains a top destination for manufacturers across multiple industries, from oil exploration to auto manufacturing, biotech production to food processing. ~ Industry Select
As of 2023, the state of Texas is home to 17,637 manufacturing companies employing 1.2 million workers roughly 13% of the nation's manufacturing workforce. ~ Industry Select
Dallas County ranks #2 in the state of Texas with 183,634 industrial jobs. ~ Industry Select/MNI
Total manufacturing output in the state of Texas in 2022 equaled $226.95 billion. ~ NAM
Pharmaceutical/Medicine Manufacturing and Aerospace Product/Parts Manufacturing ranked as the top 2 major manufacturing sectors for job growth in 2021. ~ NAM
About the Show
Get immediate business – over 40% of the visitors from our 2023 shows were looking to purchase within 6 months.
Easiest set-up and breakdown of any trade show in the region – no union fees or extra drayage costs.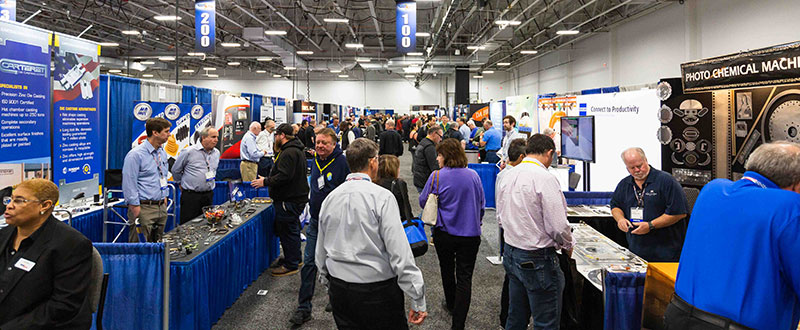 Promotional radius to include: Texas, Oklahoma, Arkansas, and Louisiana.
Exclusive Promotion…
The Texas Design-2-Part Show is the only trade show in the region to exclusively feature exhibitors who specialize in design and contract manufacturing services.
Easy Access to the Show…
The Irving Convention Center, a state-of-the-art facility equipped with many business amenities and services, is situated in the heart of the central business hub of Irving.
Click here to view a map of the area.

Partial List of
Regional Attendees
ABBOTT
ADVANCED PEDESTALS
AIRBORN INC
ALCON
APPLIED MATERIALS
B BRAUN MEDICAL
BAKER HUGHES
BELL FLIGHT
CISCO SYSTEMS
COLLINS AEROSPACE
COMMSCOPE
CONTINENTAL ELECTRONICS
CORNING OPTICAL COMM
DEAN TECHNOLOGY
DIAMOND C TRAILERS
DYNACRAFT
ELBIT SYSTEMS OF AMERICA
ENTEGRIS
GARRETT ELECTRONICS
GENERAL MOTORS LLC
GENESYS AEROSYSTEMS
GREENE TWEED
H+K INTERNATIONAL
HALLIBURTON ENERGY SERVICES
HILITE INTERNATIONAL
IBM
JOHNSON CONTROLS
KLEIN TOOLS
LOCKHEED MARTIN AERONAUTICS
LUMINATOR TECHNOLOGY GRP
MEDTRONIC
MERCER VALVE
MOUSER ELECTRONICS
NOKIA
OIL STATES INDUSTRIES
OMRON AUTOMATION
ORTHOFIX INC
OSTEOMED
PACCAR INC
PARKER HANNIFIN
PELCO PRODUCTS INC
PETERBILT MOTORS COMPANY
PRATT & WHITNEY
QUALITY ASPIRATORS
RAYTHEON SPACE & AIRBORNE
ROCHESTER GAUGES
SAFRAN SEATS
SANMINA
SELLMARK CORP
SHERWIN WILLIAMS CO
SIMTEK INC
SOLAR TURBINES INC
STACKER TRAILERS
TEXAS INSTRUMENTS
TOYOTA
TRANE INC
TRAULSEN
TRINITY INDUSTRIES
TRUE VELOCITY
TUCKER POWERSPORTS
WHITMORE INDUSTRIES
WILSON ELECTRONICS

Proven Results...
% Based on 2023 Arlington Show
Attendee Profile
(Engineering, Purchasing, Corporate Managment)
Final Decision
36.0%
Significant Influence
32.3%
Recommend Vendors
21.7%
90% Involved in the Decision to Outsource
Regional Attendance
| | |
| --- | --- |
| Arlington, TX 2023 | 1,544 |
| Arlington, TX 2022 | 1,401 |
| Grapevine, TX 2021 | 1,505 |
| Grapevine, TX 2020 | 1,854 |
Top Industries Represented
Aerospace/Aviation
10.3%
Electronics
Electronics Mfg., Computers/Subsystems,
Instrumentation & Controls
9.7%
Machinery
5.2%
Automotive
5.1%
Medical
4.5%
Energy/Utilities
3.4%
Government/Defense
3.2%
Sporting Goods
2.8%