Greater Denver

Design-2-Part Show
Denver, CO • June 5 & 6, 2024
Colorado Convention Center
Wednesday 9:30 – 3:00 • Thursday 9:30 – 3:00
New Show Market for 2024
Market at a Glance:
Colorado is currently home to 4,745 manufacturers employing 195,303 workers. ~ Industry Select/MNI
Denver remains the state's top industrial city by number of manufacturing jobs, accounting for 55,187 workers. ~ Industry Select/MNI
Top manufacturing companies in Colorado include Lockheed Martin, Anheuser-Busch, Team Industrial Services, JBS USA, Terumo BCT, and Raytheon Technologies. ~ Industry Select
Total manufacturing output in the state of Colorado in 2021 equaled $28.88 billion. ~ NAM
Colorado ranks as the #1 state in private aerospace employment concentration, #2 state to start a business, #2 for technology & science, and #4 for concentration of STEM workers. ~ Colorado Office of Economic Development and International Trade
About the Show
After over 45 years of running trade shows, this marks Design-2-Part's first time hosting a contract manufacturing trade show in the Colorado market.
Get immediate business – over 40% of the visitors from our 2023 shows were looking to purchase within 6 months.
No union fees or extra drayage costs.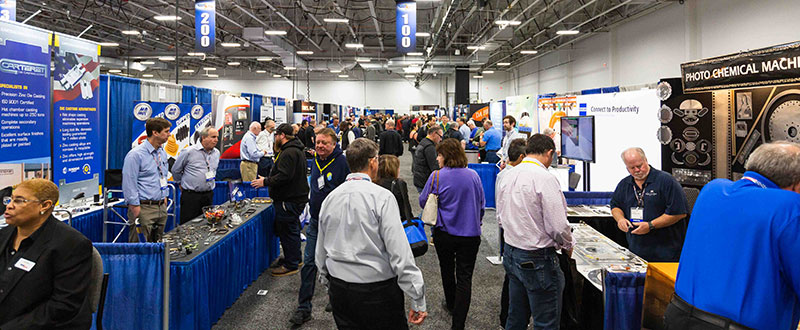 Exclusive Promotion…
The only trade show in Colorado to exclusively feature exhibitors who specialize in design and contract manufacturing services.
Easy Access to the Show…
Located in the heart of downtown Denver, the Colorado Convention Center is within easy walking distance of nearly 10,000 hotel rooms and 300 restaurants.
Click here to view a map of the area.

Manufacturing Companies
in the Region
ActivArmor Allegion Alpen High Performance Prod Alpha Spectra Anheuser Busch – InBev Arrow Electronic Ball Aerospace Band-It Barber-Nicols Bayer Crop Science Bighorn Blue Canyon Technologies Bye Aerospace Comptek Technologies Crocs Danhydra DePuy Synthes USA Droplet Measurement Tech Eldon James Corporation Gates Corporation Hewlett Packard Honeybee Robotics Honeywell Hunter Douglas Hydro Massage Products JBS USA Karcher North America Kodak Alaris Liteye Systems Lockheed Martin Lutek Shading Systems Medtronic Meier Skis NCAR Nat'l Renewable Energy Lab Never Summer Industries Noffsinger Industries OmniTRAX Pinnacle Lighting Primus Aerospace Raytheon Technologies Redwire Space Research Electro Optics Ricoh Seagate Technologies SEAKR Engineering Sierra Nevada Corp Snaptron Spectra Logic Spire Manufacturing System76 Teledyne Monitor Labs Terumo BCT Thermo Fisher Scientific ThyssenKrupp Industries Waterpik Woodward Governor Wright & McGill Xcel Energy York Space Systems

Proven Results...
% Based on Average Attendance to our Shows
Attendee Profile
(Engineering, Purchasing, Corporate Managment)
Significant Influence
34.5%
Final Decision
32.0%
Recommend Vendors
24.8%
91% Involved in the Decision to Outsource
Top Industries In Colorado...
Source: (Colorado Office of Economic Development and International Trade)
Advanced Manufacturing Aerospace Bioscience Electronics Energy & Natural Resources Infrastructure Engineering Technology & Information Health & Wellness Outdoor Recreation Food & Agriculture Transportation & Logistics