Southeast

Design-2-Part Show
Atlanta, GA • March 27 & 28, 2024
Cobb Galleria Centre
Wednesday 9:30 – 3:00 • Thursday 9:30 – 3:00
Market at a Glance:
As of 2023, the state of Georgia is home to 8,100 manufacturing companies employing 476,170 workers. ~ Industry Select/MNI
Georgia is a national leader in advanced manufacturing, outpacing the U.S in 10-year GDP growth in the manufacture of products including machinery, electrical equipment & components, and fabricated metals. ~ Georgia.org
Atlanta is the state's largest industrial city, home to 751 manufacturers and 58,180 workers. ~ Industry Select
Top manufacturing companies in Georgia include Gulfstream Aerospace Corp., Lockheed Martin, Coca-Cola, Mohawk Industries, Georgia-Pacific, Kia Motors, and GE Power Electronics. ~ Industry Select
About the Show
Get immediate business – over 40% of the visitors from our 2023 shows were looking to purchase within 6 months.
Easiest set-up and breakdown of any trade show in the region – no union fees or extra drayage costs.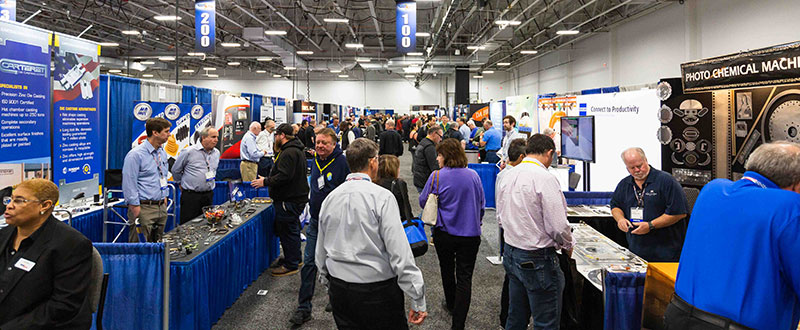 Promotional radius to include: Alabama, Florida, Georgia, North Carolina, South Carolina, and Tennessee.
Exclusive Promotion…
The Southeast Design-2-Part Show is the only trade show in the region to exclusively feature exhibitors who specialize in design and contract manufacturing services.
Easy Access to the Show…
The Cobb Galleria is located just outside the I-285 loop, offering visitors convenient access from the entire region. Click here to view a map of the area.
Partial List of
Regional Attendees
3M
ACUITY BRANDS LIGHTING
AMEREX
AVANOS MEDICAL
B&G EQUIPMENT
BECTON DICKINSON
BITZER US
BLUE BIRD CORPORATION
BMW
BOSCH REXROTH
BRODIE INTERNATIONAL
CATERPILLAR
CHAMPION AEROSPACE LLC
CHART INDUSTRIES
CLUB CAR
CONSTALLIUM AUTOMOTIVE
COOPER LIGHTING
COTTRELL TRAILERS INC
DECOSTAR INDUSTRIES INC
DELTA AIR LINES
DINEX EMISSION INC
DURACELL
ECOLAB
ELMA ELECTRONIC
ELRING KLINGER USA
FISCHER CONNECTORS
GE POWER
HARSCO RAIL
HONDA
HOPE INDUSTRIAL SYSTEMS
HOSHIZAKI AMERICA
HUBBELL POWER SYSTEMS
INTEGRITY FUSION PRODUCTS
INVISTA
JOHNSON OUTDOOR
JTEKT
KASON INDUSTRIES
KUBOTA
L3HARRIS
LOCKHEED MARTIN AERO CO
MAGNA ENERGY STORAGE SYS
MANDO AMERICA
MEDLINE
MVE BIOLOGICAL SOLUTIONS
NEPTUNE TECHNOLOGY GROUP
NORDSON CORPORATION
OPTIMAS
PARAGON TANK TRUCK EQUIPMENT
PLEASURECRAFT ENGINE GROUP
PRATT & WHITNEY
RELIABLE AUTOMATIC SPRINKLER
REMINGTON MEDICAL
ROECHLING AUTOMOTIVE
ROPER CORPORATION
SAGE AUTOMOTIVE INTERIORS
SANMINA
SEALED AIR
SHAW INDUSTRIES GROUP INC
SIEMENS MOBILITY
TECHTRONIC CORDLESS
TECHTRONIC INDUSTRIES
YAMAHA MOTOR CORP


Proven Results...
% Based on 2023 Atlanta, GA Show
Attendee Profile
(Engineering, Purchasing, Corporate Management)
Final Decision
36.0%
Significant Influence
32.2%
Recommend Vendors
21.7%
90% Involved in the Decision to Outsource
Regional Attendance
| | |
| --- | --- |
| Atlanta, GA 2023 | 1,153 |
| Atlanta, GA 2022 | 1,128 |
| Atlanta, GA 2021 | 1,007 |
| Atlanta, GA 2019 | 1,344 |
Top Industries Represented
Automotive
11.2%
Electronics
Electronics Mfg., Computers/Subsystems,
Instrumentation & Controls
7.7%
Machinery
5.9%
Medical
4.9%
Government/Defense
3.8%
Energy/Utilities
3.2%
Aerospace/Aviation
3.0%
Sporting Goods
2.1%