Why Exhibit?
Face-2-Face is the Most Cost Effective Way
to Develop New Customers
Greater New York

Design-2-Part Show
Secaucus, NJ • April 26 & 27, 2023
Meadowlands Exposition Center
Wednesday 9:30 – 3:00 • Thursday 9:30 – 3:00
Market at a Glance:
The core Mid-Atlantic region (New Jersey, New York, Pennsylvania, and Delaware) is now home to 34,964 manufacturers employing 1.29 million workers. ~ National Association of Manufacturers
New Jersey alone is home to 7,001 manufacturers and 247,000 workers. ~ National Association of Manufacturers
The manufacturing sector overall contributed $54 billion to New Jersey's gross domestic product in 2020, or about 10.1% of all output, according to the New Jersey Department of Labor and Workforce Development. ~ NJB Magazine
Computer and electronic products manufacturing is the fastest-growing industry among manufacturers, increasing its GDP to 6.1 billion in 2020 from $464 million in 1997, and is the third-highest output of GDP in New Jersey. ~ NJB Magazine
Pharmaceutical and medicine manufacturing was the top growth sector in 2020. ~ NAM
About the Show
Get immediate business- 64% of last year's visitors were looking to purchase within 6 months.
Meet the decision makers—66% of attendees of the last show had final decision or significant influence.
No union fees or extra drayage costs.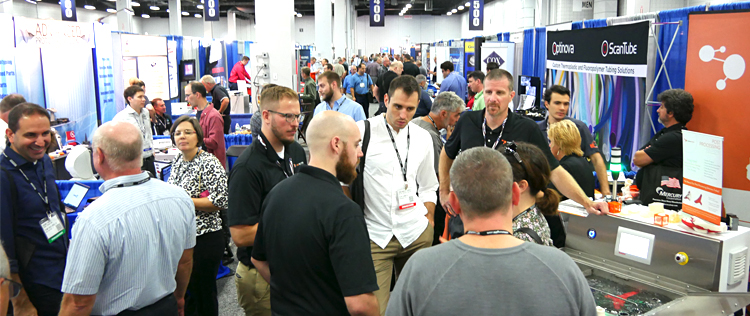 Promotional radius to include: New Jersey, New York, Pennsylvania, Delaware, Maryland, and Connecticut.
Exclusive Promotion…
The Greater New York Design-2-Part Show is the only trade show in the region to exclusively feature exhibitors who specialize in design and contract manufacturing services.
Easy Access to the Show…
Convenient and cost-efficient alternative to New York City with easy access off the Eastern Spur of I-95 and featuring over 1,000 hotel rooms within walking distance with average rates 30% lower than NYC.
Click here to view a map of the area.
Partial List of
Regional Attendees
ABBOTT POINT OF CARE
ACRISON INC
AIR TECHNIQUES
AIRBORNE SYSTEMS
AIRTECH VACUUM
ALFA WASSERMANN INC
ARGON CORP
ASCO POWER / EMERSON
AUTOMATIC SWITCH CO
B/E AEROSPACE
BECTON DICKINSON
BLICKMAN INC
BLONDER TONGUE LABS
CORONET INC
CRESTRON ELECTRN INC
DAUPHIN NORTH AMERICA
DENTON VACUUM INC
DISTEK INC
ECR INTERNATIONAL
EDISON PRICE LIGHTING
EMERSON
ETHICON INC
GE SENSING & INSPECTION
GENERAL MOTORS
HARRIS CORPORATION
HONEYWELL
HORIBA INSRUMENTS
INTEGRATED MICROWAVE TECH
JOHNSON MATTHEY
KASON CORP
KEYSTONE INDUSTRIES
KIMBER MFG
KOOLTRONIC INC
KREISLER INDUSTRIAL
LAWN DOCTOR
LEVITON MANUFACTURING
MCKEON DOOR
MILL MAX
NATIONAL PUBLIC SEATING
PARKER HANNIFIN
PEERLESS INSTRUMENT
PHOTOSCRIBE TECHNOLOGIES
PLAST-O-MATIC VALVES INC
PRINCETON INSTRUMENTS
ROCKWELL AUTOMATION
ROLL & HILL
ROTOR CLIP COMPANY
RUDOLPH RESEARCH ANALYTICAL
SIEMENS HEALTHCARE
SPELLMAN HIGH VOLTAGE SS WHITE DENTAL
STEINWAY & SONS
SUSSMAN AUTOMATIC CORP
TAKARA BELMONT
TAURUS INTERNATIONAL
TDK-LAMBDA AMERICAS
THORLABS
VACUUM INSTRUMENTS CORP
VEECO INSTRUMENTS
ZIMMER


Proven Results...
% Based on 2018 Secaucus, NJ Show
Attendee Profile
(Engineering, Purchasing, Corporate Managment)
Final Decision
32%
Significant Influence
27.5%
Recommend Vendors
18.4%
80% Involved in the Decision to Outsource
Regional Attendance
| | |
| --- | --- |
| Uncasville, CT 2022 | 1,427 |
| Uncasville, CT 2021 | 1,539 |
| Secaucus, NJ 2018 | 1,222 |
| Secaucus, NJ 2016 | 1,175 |
Top Industries Represented
Electronics
Electronics Mfg., Computers/Subsystems,
Instrumentation & Controls
14.0%
Aerospace/Aviation
7.1%
Machinery
6.5%
Custom Metal Parts
5.2%
Automotive
3.9%
Custom Plastic Parts
3.4%
Government/Defense
3.0%
Hardware
2.9%
Furniture
2.3%