Why Exhibit?
Face-2-Face is the Most Cost Effective Way
to Develop New Customers
Greater Chicago

Design-2-Part Show
Schaumburg, IL • May 17 & 18, 2023
Schaumburg Convention Center
Wednesday 9:00 – 4:00 • Thursday 9:00 – 3:30
Market at a Glance:
Manufacturing is the 2nd largest industry in Illinois.~ NAM
In 2020, the top manufacturing sector for growth was Pharmaceutical/Medicine Manufacturing.~ NAM
Illinois is currently home to over 15,000 manufacturers. The top 5 manufacturing companies are Ford Motor Co., Medine Industries Inc., FCA US, AbbVie, and Continental Tire The Americas.
~ IndustrySelect
About the Show
Get immediate business – over 50% of the visitors from our 2022 Spring Shows were looking to purchase within 6 months.
Free parking with easy break down, no union fees or extra drayage costs.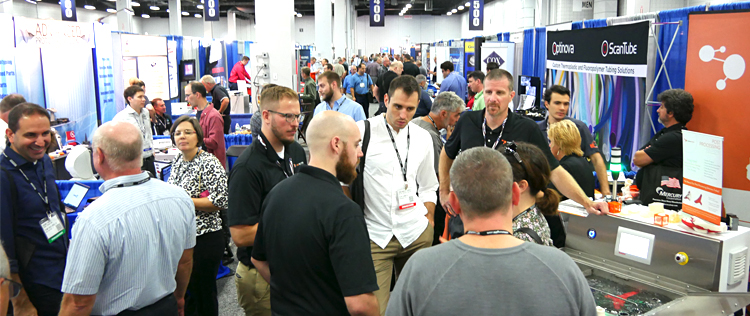 Promotional Radius to Include: Illinois, Wisconsin, Indiana, Michigan, Minnesota, & Iowa.
Exclusive Promotion…
The Greater Chicago Design-2-Part Show is the only trade show in the region to exclusively feature exhibitors who specialize in design and contract manufacturing services.
Easy Access to the Show…
The Schaumburg Convention Center is within convenient access to I-90 and I-290/53 and is just 12 miles from O' Hare Airport. Click here to view a map of the area.
Partial List of
Regional Attendees
ADDISON
ADVANCED AIRFOILS COMPONENTS
ADVANCED MICRO DEVICES
AIR PRODUCTS AND CHEMICALS
AVRA MEDICAL ROBOTICS
BAUSH + LOMB
BERTRAM YACHT
BLUE ORIGIN
BOEING DEFENSE, SPACE & SECURITY
BOSTON WHALER
CHRIS-CRAFT
CHROMALLOY
COCA-COLA
COLINS AEROSPACE
CORRECT CRAFT
CUES
DANIELS MANUFACTURING
DME CORP.
EMBRAER
FLORIDA CAN MANUFACTURING
FRITO LAY
GERDAU AMERISTEEL
HONEYWELL INTERNATIONAL
INVACARE
ITT INCORPORATED
JABIL
KAMAN CORPORATION
L3HARRIS TECHNOLOGIES
LEIDOS
LENSAR
LOCKHEED MARTIN
MAVERICK BOAT GROUP
MEGGITT
MISSION FOODS
MITSUBISHI HITACHI POWER SYSTEMS
NAUTIQUE
NORTHROP GRUMMAN LASER SYSTEMS
NUCOR
OCEAN INSIGHT TROPICANA
ORACLE
ORTHOMERICA
PERSONA MEDICAL
PRATT & WHITNEY
PUBLIX FOOD MANUFACTURING
REGAL BOATS
SIEMENS ENERGY
SIKORSKY
SUN HYDRAULICS
TECHNETICS GROUP
THALES
UNITED SPACE ALLIANCE
VOXX INTERNATIONAL


Proven Results...
% Based on 2022 Schaumburg, IL Show
Attendee Profile
(Engineering, Purchasing, Corporate Management)
Significant Influence
33%
Final Decision
31%
Recommend Vendors
28%
92% Involved in the Decision to Outsource
Regional Attendance
| | |
| --- | --- |
| Schaumburg, IL 2022 | 1,522 |
| Schaumburg, IL 2021 | 1,556 |
| Schaumburg, IL 2019 | 2,125 |
| Schaumburg, IL 2018 | 2,000 |
Top Industries Represented
Automotive
11.2%
Electronics


Electronics Mfg., Computers/Subsystems Instrumentation & Controls

8.6%
Machinery
7.8%
Medical
4.5%
Transportation Equipment
3.6%

Aerospace/Aviation
3.4%
Energy/Utilities
2.4%