Why Exhibit?
Face-2-Face is the Most Cost Effective Way
to Develop New Customers
Southeast

Design-2-Part Show
Raleigh, NC • November 1 & 2, 2023
Raleigh Convention Center

Market at a Glance:
Wake County, located in the heart of North Carolina's famed Research Triangle, is home to over 300 companies in the Advanced Manufacturing sector. This includes John Deere, Cisco, and ABB. ~ Wake County Economic Development
Advanced manufacturing jobs increased 19.4% in Wake County ('14 – '19), compared to the national rate of 4.3%. ~ Wake County Economic Development
North Carolina ranked 3rd in "Top States Business Climate." ~ CNBC
North Carolina is home to 9,785 manufacturers and employs 473,000 workers. ~ NAM
In 2019, North Carolina ranked 5th Best State for manufacturing. ~ Site Selection Magazine
About the Show
Get immediate business—57% of the last show's visitors were looking to purchase within 6 months.
Meet the decision makers—65% of attendees of the last show had the final decision or significant influence.
Raleigh visitors demonstrate a critical need for job shop parts and services as over 32% of them traveled more than 90 miles to outsource parts.
Paid parking with easy break down, no union fees or extra drayage costs.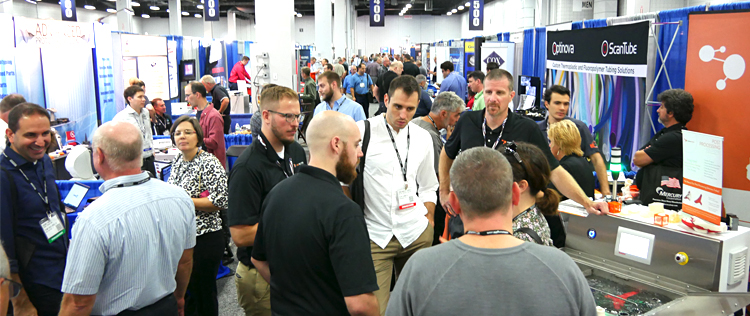 Promotional Radius to Include:
North Carolina, South Carolina, Georgia, Virginia, Tennessee and West Virginia.
Exclusive Promotion…
The only trade show in the Carolinas to exclusively feature exhibitors who specialize in design and contract manufacturing services.
Partial List of
Regional Attendees
3D SYSTEMS
AISIN WARNER NORTH CAROLINA
AMERICAN EMERGENCY VEHICLES
AMPHENOL ANTENNA SOLUTIONS
ANDERSEN PRODUCTS INC
AP EMISSIONS TECHNOLOGIES
APC AUTOMOTIVE TECH
APEX TOOL GROUP
APOLLO VALVES
ASENSUS SURGICAL
ASSA ABLOY ENTRANCE SYS
ATI INDUSTRIAL AUTOMATION
BELL AND HOWELL
BOON EDAM INC
BORG WARNER
BUEHLER MOTOR
BURKERT FLUID CONTROL SYS
CARRIER
CHEMRING SENSORS & ELEC SENSORS
COLLINS AEROSPACE
CORNING OPTICAL COMMUNICATIONS
DANFOSS POWER SOLUTIONS
DELL TECHNOLOGIES
ELECTROLUX
ELKAY SOUTHERN MFG
GENERAL DYNAMICS MISSION SYS
HENDRICK MOTORSPORTS
HONDA AIRCRAFT
HONEYWELL
HUNTER DOUGLAS
HUSQVARNA
INTUITIVE SURGICAL
JELD-WEN
JOERNS HEALTHCARE
JOHN DEERE
LORD CORPORATION
MANN+HUMMEL
MICROTECH KNIVES
MOOG
NUVASIVE
PARKER HANNIFIN
PENTAIR
PHONONIC
PROCTER & GAMBLE
RAILROAD FRICTION PRODUCTS
RAMSEY PRODUCTS
ROBLING MEDICAL
SAFE FLEET
SCHUNK
SEALED AIR CORP
SIEMENS
SMC CORP OF AMERICA
SNAP-ON
TE CONNECTIVITY
TEMPOSONICS
TOSHIBA GCS INC
VOLVO GROUP
WOLF X-RAY CORP
WOLFSPEED
ZENITH PUMPS



Proven Results...
% Based on 2021 Raleigh, NC Show
Attendee Profile
(Engineering, Purchasing, Corporate Management)
Final Decision
31.3%
Significant Influence
33.4%
Recommend Vendors
18.0%
83% Involved in the Decision to Outsource
Regional Attendance
| | |
| --- | --- |
| Greenville, SC 2022 | 1,009 |
| Raleigh, NC 2021 | 1,009 |
| Charlotte, NC 2019 | 1,103 |
| Raleigh, NC 2018 | 892 |
Top Industries Represented
Electronics
Electronics Mfg., Computers/Subsystems,
Instrumentation & Controls
10.8%
Automotive
8.0%
Medical
6.7%
Machinery
4.8%
Aerospace/Aviation
4.8%
Energy/Utilities
3.9%
Government/Defense
2.4%
Telecommunications
2.1%
Agriculture
2.1%
Hardware
2.0%