Why Exhibit?
Face-2-Face is the Most Cost Effective Way
to Develop New Customers
Florida

Design-2-Part Show
Orlando, FL • May 2 & 3, 2023
Orange County Convention Center
Tuesday 9:30 – 3:00 • Wednesday 9:30 – 3:00
Market at a Glance:
"Florida manufacturers produce a variety of goods including aerospace products, batteries, pharmaceuticals, medical devices, semiconductors, and more." ~ FloridaMakes
Top Industries in the state of Florida include: Aerospace/Aviation, Cleantech, Defense, IT, Life Sciences, and Manufacturing. ~ EnterpriseFlorida
"From batteries and boats to semiconductors and satellites, Florida's manufacturing industry produces a wide variety of goods each year. Ranked among the nation's top 10 states for manufacturing, Florida is home to over 20,200 manufacturing companies that employ more than 371,000 workers." ~ EnterpriseFlorida
#2 Best State for Business 2020 (Statista), #3 Largest Labor Force 2019 (Bureau of Economic Analysis), #4 Largest Economy 2019 ~ Chief Executive
About the Show
Based on most recent Atlanta and Greenville Shows
Get immediate business – 64% of last year's visitors were looking to purchase within 6 months.
Meet the decision makers – 63% of attendees made the final decision or had significant influence.
No union fees or extra drayage costs.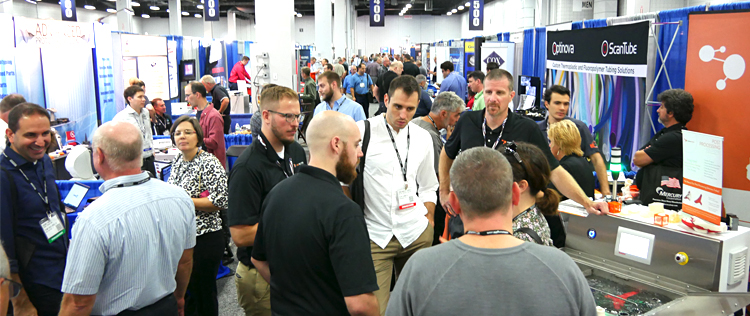 Promotional radius within 250 miles.

Exclusive Promotion…
The Florida Design-2-Part Show is the only trade show in the region to exclusively feature exhibitors who specialize in design and contract manufacturing services.
Easy Access to the Show…
The Orange County Convention Center offers visitors convenient access from the entire region. With Orlando being the most visited destination in the U.S., there are plenty of dining and entertainment options available around the convention center. Click here to view a map of the area.
Partial List of
Regional Attendees
ADDISON
ADVANCED AIRFOILS COMPONENTS
ADVANCED MICRO DEVICES
AIR PRODUCTS AND CHEMICALS
AVRA MEDICAL ROBOTICS
BAUSH + LOMB
BERTRAM YACHT
BLUE ORIGIN
BOEING DEFENSE, SPACE & SECURITY
BOSTON WHALER
CHRIS-CRAFT
CHROMALLOY
COCA-COLA
COLINS AEROSPACE
CORRECT CRAFT
CUES
DANIELS MANUFACTURING
DME CORP.
EMBRAER
FLORIDA CAN MANUFACTURING
FRITO LAY
GERDAU AMERISTEEL
HONEYWELL INTERNATIONAL
INVACARE
ITT INCORPORATED
JABIL
KAMAN CORPORATION
L3HARRIS TECHNOLOGIES
LEIDOS
LENSAR
LOCKHEED MARTIN
MAVERICK BOAT GROUP
MEGGITT
MISSION FOODS
MITSUBISHI HITACHI POWER SYSTEMS
NAUTIQUE
NORTHROP GRUMMAN LASER SYSTEMS
NUCOR
OCEAN INSIGHT TROPICANA
ORACLE
ORTHOMERICA
PERSONA MEDICAL
PRATT & WHITNEY
PUBLIX FOOD MANUFACTURING
REGAL BOATS
SIEMENS ENERGY
SIKORSKY
SUN HYDRAULICS
TECHNETICS GROUP
THALES
UNITED SPACE ALLIANCE
VOXX INTERNATIONAL


Proven Results...
% Based on most recent Atlanta and Greenville Shows
Attendee Profile
(Engineering, Purchasing, Corporate Managment)
Significant Influence
31.1%
Final Decision
31.5%
Recommend Vendors
22.7%
86% Involved in the Decision to Outsource
Regional Attendance
| | |
| --- | --- |
| Greenville, SC 2022 | 1,009 |
| Atlanta, GA 2022 | 1,126 |
| Raleigh, NC 2021 | 1,011 |
| Atlanta, GA 2021 | 1,004 |
Top Industries Represented
| | |
| --- | --- |
| Aerospace/Aviation | |
| Cleantech | |
| Defense | |
| IT | |
| Life Sciences | |
| Medical | |