Why Exhibit?
Face-2-Face is the Most Cost Effective Way
to Develop New Customers
Southern California

Design-2-Part Show
Ontario, CA • September 13 & 14, 2023
Ontario Convention Center

Market at a Glance:
Key manufacturing industries include automotive, information and communication technologies, biotech, pharmaceuticals and medical devices. ~ Ontario.ca
California is the #1 manufacturing state with 24,304 manufacturers, employing 1,541,000 employees. The top companies include Raytheon, Northrop Grumman, and General Atomics. ~ IndustrySelect.com
California accounts for 14.5% of U.S. manufacturing output…and is still the largest contributor to the U.S. manufacturing industry – both in terms of output and employment. ~ CMTC
Approximately 16% of all aerospace manufacturing jobs and 28% of all IT and analytical product manufacturing jobs in the U.S. are accounted for by the state of California. ~ CMTC
About the Show
Ideally positioned in the fall when no other competitive shows are in the region. All other manufacturing shows are held in the spring.
Hosted at the Ontario Convention Center, a state-of-the-art facility with plenty onsite parking for attendees and exhibitors.
Easiest set-up and breakdown of any trade show in the region–no union fees or extra drayage costs.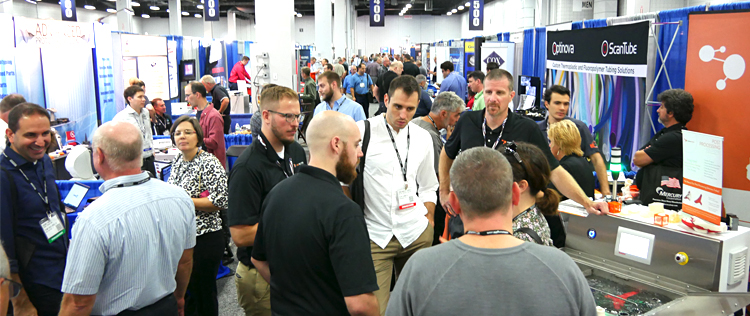 Promotional Radius to Include:
California, Nevada, and Arizona.
Exclusive Promotion…
The only trade show in Southern California to exclusively feature exhibitors who specialize in design and contract manufacturing services.
Partial List of
Regional Attendees
3M
ABBOTT LABORATORIES
ACORN ENGINEERING
ADEL WIGGINS
ARCONIC INC
AXIOMTEK
BECKMAN COULTER
BOBRICK WASHROOM EQUIPMENT
BOEING
BOURNS
BRAUN
CAPSTONE TURBINE CORPORATION
CHERRY AEROSPACE
CLEVELAND GOLF
CONCORDE BATTERY CORP
CONVAID
CURTISS-WRIGHT
DOW-KEY MICROWAVE
EATON
EDWARDS LIFESCIENCES
EMTEK PRODUCTS
EXTRON
FORESIGHT SPORTS
GALE BANKS ENGINEERING
GENERAL MICRO SYSTEMS
GLENAIR INC
GLIDEWELL LABORATORIES
HELIOGEN
HOWMET AEROSPACE
HYDRAULICS INTERNATIONAL
JET PROPULSION LABORATORY
JOHNSON & JOHNSON
KARMA AUTOMOTIVE
KINEMETRICS
LEACH INTERNATIONAL
LISI AEROSPACE
LOCKHEED MARTIN
MATTEL INC
MAXON LIFT CORP
MEDTRONIC
MEGGITT DEFENSE SYSTEMS
MEISSNER FILTRATION PRODUCTS
MOOG INC
NOARK ELECTRIC NORTH AMERICA
NORTHROP GRUMMAN
OAKLEY
PANASONIC AVIONICS CORP
PARKER HANNIFIN
QUANEX
RAYTHEON
REGENT AEROSPACE
RICOH PRINTING SYSTEMS AMERICA
ROBINSON HELICOPTER
SAFRAN AEROSPACE
SKYWORKS SOLUTIONS INC
SOLID STATE DEVICES
SPACEX
VIRGIN ORBIT
WAVESTREAM
WESTERN DIGITAL



Proven Results...
% Based on 2022 Long Beach Show
Attendee Profile
(Engineering, Purchasing, Corporate Management)
Final Decision
35.0%
Significant Influence
28.9%
Recommend Vendors
20.9%
85% Involved in the Decision to Outsource
Regional Attendance
| | |
| --- | --- |
| Long Beach, CA 2022 | 1,785 |
| Long Beach, CA 2018 | 1,859 |
| Long Beach, CA 2016 | 1,681 |
| Long Beach, CA 2014 | 1,543 |
Top Industries Represented
Aerospace/Aviation
13.8%
Automotive
11.1%
Electronics
Electronics Mfg., Computers/Subsystems,
Instrumentation & Controls
9.9%
Medical
5.2%
Machinery
4.5%
Energy/Utilities
2.7%
Hardware
2.2%