Why Exhibit?
Face-2-Face is the Most Cost Effective Way
to Develop New Customers
Mid-Atlantic

Design-2-Part Show
Oaks, PA • November 8 & 9, 2023
Greater Philadelphia Expo Center

Market at a Glance:
The greater Philadelphia region is home to 16,799 manufacturers. ~ MNI
In 2019, Pharmaceutical/Medical Manufacturing, Aerospace Product/Parts Manufacturing, and Medical Equipment/Supplies Manufacturing were ranked amongst the top four sectors for job growth. ~ NAM
The region is a major center for the healthcare industry. Some of the larger healthcare companies in the region include GE Healthcare, Johnson & Johnson, Siemens Medical Solutions, GlaxoSmithKline, AstraZeneca, Wyeth, and Merck.
The top manufacturing companies in the Philadelphia region are DuPont, Siemens, PepsiCo, and Sherwin-Williams.
About the Show
Get immediate business—57% of last year's visitors were looking to purchase within 6 months.
No union fees or extra drayage costs.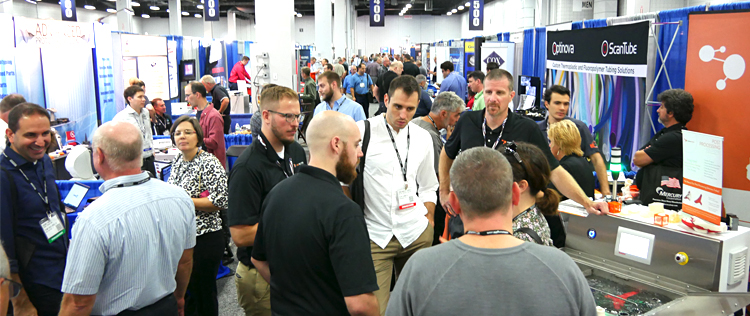 Promotional Radius to Include: Pennsylvania, New Jersey, New York, Delaware, Maryland and Virginia.
Exclusive Promotion…
The only trade show in the region to exclusively feature exhibitors who specialize in design and contract manufacturing services.
Easy Access to the Show…
Located in the Northwest Philadelphia suburb of Phoenixville, the Expo Center features a convenient central location with easy access from 8 major highways and plenty of free parking. Click here to view a map of the area.
Partial List of
Regional Attendees
3M
AIR PRODUCTS
AMERICAN STANDARD
AYDIN DISPLAYS
B BRAUN MEDICAL INC
BECTON DICKINSON
BOEHRINGER LABORATORIES
BOEING
BRENNER AEROSTRUCTURES
BRENTWOOD INDUSTRIES
BROOKS INSTRUMENT
CARDONE INDUSTRIES
CARPENTER TECHNOLOGY
CHECKPOINT SYSTEMS
CONAIR
CONTINENTAL REFRIGERATION
CRANE PAYMENT INNOVATIONS
CURTISS-WRIGHT EMD
DOMETIC MARINE
DORMAN PRODUCTS
EATON AEROSPACE
ENDLESS POOLS
FAIRWAY BUILDING PRODUCTS
GENERAL AIR PRODUCTS
GREENE TWEED
HEARTH & HOME TECH
HONEYWELL
HORIBA SCIENTIFIC
HUBBELL POWER SYSTEMS
HUTCHINSON INDUSTRIES
HYCON CORP
INTEGRITY MEDICAL DEVICES
JOHNSON CONTROLS
KINGSBURY
KULICKE & SOFFA
LOAD RITE TRAILERS INC
LOCKHEED MARTIN
LUTRON ELECTRONICS INC
MARTECH MEDICAL PRODUCTS INC
MERCK PHARMACEUTICALS
MILTON ROY
MSA SAFETY
NEW HOLLAND NORTH AMERICA
OPPENHEIMER PRECISION PRODUCTS
PARKER HANNIFIN
PENN ENGINEERING
PHOENIX CONTACT
PRECISION MEDICAL INC
READING BAKERY SYSTEMS
RED LION CONTROLS
RICOH
RUDOLPH RESEARCH ANALYTICAL
SIEMENS
SP INDUSTRIES
SPS TECHNOLOGIES
STAR DENTAL
STREAMLIGHT INC
TE CONNECTIVITY
TELEDYNE JUDSON TECHNOLOGIES
THERMOMEGATECH
THORLABS
VEEDER-ROOT CO
VIANT MEDICAL
WAYNE AUTOMATION


Proven Results...
% Based on 2021 Oaks, PA Show
Attendee Profile
(Engineering, Purchasing, Corporate Management)
Final Decision
35.0%
Significant Influence
29.4%
Recommend Vendors
19.4%
84% Involved in the Decision to Outsource
Regional Attendance
| | |
| --- | --- |
| Oaks, PA 2021 | 1,173 |
| Oaks, PA 2019 | 1,544 |
| Oaks, PA 2017 | 1,421 |
| Oaks, PA 2015 | 1,236 |
Top Industries Represented
Electronics
Electronics Mfg., Computers/Subsystems,
Instrumentation & Controls
10.1%
Medical
8.5%
Automotive
5.8%
Machinery
5.5%
Aerospace/Aviation
5.4%
Government/Defense
5.1%

Sporting Goods
2.9%
Hardware
2.1%
Energy/Utilities
2.0%