Why Exhibit?
Face-2-Face is the Most Cost Effective Way
to Develop New Customers
Greater Michigan

Design-2-Part Show
Novi, MI • June 14 & 15, 2023
Suburban Collection Showplace
Wednesday 9:30 – 3:30 • Thursday 9:30 – 3:00
Market at a Glance:
"Michigan's economy is much more diverse than it was a few decades ago when we were extraordinarily dependent on manufacturing in general and the auto industry in particular… Motor vehicles and parts as a percentage of the state's gross domestic product has fallen from 25% in the late 1960s to about 7% in 2018…" ~ MSU economist Charles Ballard, Michigan Advance
"Manufacturers in Michigan account for19.38% of the total output in the state, employing 14.20% of the workforce (6th highest in the nation). Total output from manufacturing was $102.35 billion in 2018." ~ NAM
Top Industries in the state of Michigan include: Advanced Manufacturing, Medical Device Technology/ Life Sciences, Automotive, and Semiconductor & Technology ~ Michigan Economic Development Corporation
"Michigan has the 5th largest advanced manufacturing workforce in the country, with more than 65,000 workers employed in advanced manufacturing industries in 2019." ~ Michigan Economic Development Corporation
"Michigan was ranked first in "Automotive Manufacturing Strength" in Business Facilities magazine's 2020 state rankings…96 of the top 100 automotive suppliers to North America have a presence in Michigan; 71 are headquartered in Michigan." ~ Michigan Economic Development Corporation
Up-swing in Manufacturing post Coronavirus:
"As manufacturers emerge from the pandemic, the key once again centers on the spirit of innovation to help them thrive once more and to help the industry rebound. As one manufacturer recently stated in a Forbes article, 'We're looking at five years of innovation over the next 18 months.'" ~ Hartford Business
The latest Industrial Production and Capacity Utilization report from the Federal Reserve shows manufacturing production and output continued to recover in June. Industrial production rose 5.4% last month, following a slight gain in May of 1.4%. ~ Industry Week
"In June 2020, gains were mostly led by transportation equipment industry, followed by miscellaneous durable goods manufacturing; which shot up 25.5%. Plastics and rubber products also posted gains, adding 21,000 jobs, while machinery was closely behind at 17,000 new jobs. Furniture/textiles fared well adding 12,000 positions and fabricated metal products increased by 11,000 jobs." ~ Industry Select
"Nearly 50% of North American tooling shops are quoting on programs historically produced in China and 34% of production shops are increasing North American sourcing." ~ Mold Making Technology
According to the ISM, U.S. manufacturing activity shot up 9.5% in June to an expansionary level of 52.6% — the sharpest increase recorded since 1980. The ISM's Production Index skyrocketed 24.1% in June – an increase not seen since August 1952. The index now sits in expansion, measuring 57.3%. ~ IndustryNet
The Reshoring Initiative lists more than 1,800 companies that have reshored parts of their operations as of Jan. 1, 2019, including 3M, Apple, Dillard's, GM, KitchenAid, Oracle, Pfizer and Stanley Black & Decker. Going forward in light of COVID-19 risks, 64% of 879 North American manufacturing and industrial professionals said they were "likely to bring manufacturing production and sourcing back to North America," in a Thomas survey. ~ Supply Chain Dive
About the Show
Get immediate business- 64% of last year's visitors were looking to purchase within 6 months.
Meet the decision makers – 55% of attendees of the last shows made the final decision or had significant influence.
No union fees or extra drayage costs.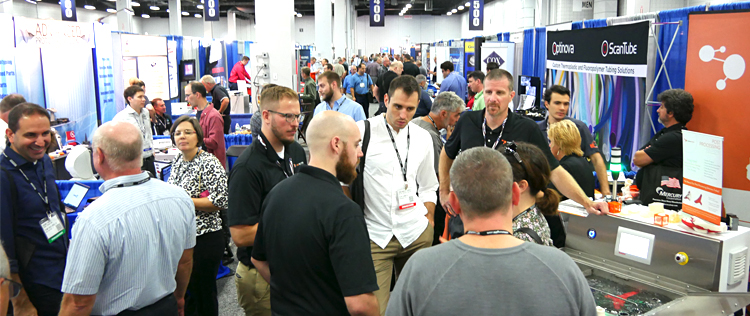 Promotional radius within 300 miles.

Exclusive Promotion…
The Greater Michigan Design-2-Part Show is the only trade show in the region to exclusively feature exhibitors who specialize in design and contract manufacturing services.
Easy Access to the Show…
Hosted at the Suburban Collection Showplace, a state-of-the-art facility equipped with many business amenities and services.
Click here to view a map of the area.
Partial List of
Regional Attendees
ACE CONTROLS INC
ALMA PRODUCTS
AMERICAN AXLE & MFG
AMERICAN MITSUBA
ASPEN SURGICAL
AUSCO PRODUCTS INC
BAE SYSTEMS
BASF CORP
BEAVER AEROSPACE & DEFENSE
BLACKMER
BORG WARNER
BOSCH
CENTURION MEDICAL
CHRYSLER CORPORATION
COOPER STANDARD
DANA CORP
DELPHI INTERIOR & LIGHTING
DE-STA-CO
DETROIT DIESEL CORP
DOW CHEMICAL CO
EATON CORP
FANUC
FEDERAL MOGUL CORP
FEMA CORP
FISHER DYNAMICS
FORD MOTOR COMPANY
GENERAL DYNAMICS
GENERAL MOTORS
GENTEX CORPORATION
HAWORTH CORPORATION
HERMAN MILLER INC
JOHNSON CONTROLS
JOYSON SAFETY
KAWASAKI
LEAR CORP
MOTOROLA
NAVISTAR
PARKER HANNIFIN
PENSKE AUTOMOTIVE
PRINCE CORP
ROCKWELL INTL
SAPA TRANSMISSION
SHAPE CORPORATION
STEELCASE INC
STRYKER MEDICAL
TECUMSEH PRODUCTS
TERUMO MEDICAL
TRELLEBORG AUTO
WALBRO CORP
WHIRLPOOL CORP


Proven Results...
% Based on Akron and Indianapolis 2021 Shows
Attendee Profile
(Engineering, Purchasing, Corporate Managment)
Significant Influence
28.3%
Final Decision
26.9%
Recommend Vendors
22.7%
80% Involved in the Decision to Outsource
Regional Attendance
| | |
| --- | --- |
| Akron, OH 2021 | 1,030 |
| Indianapolis, IN 2019 | 1,162 |
| Akron, OH 2018 | 1,368 |
| Indianapolis, IN 2017 | 1,045 |
Top Industries Represented
Automotive
Electronics
Electronics Mfg., Computers/Subsystems,
Instrumentation & Controls
Machinery
Medical