Why Exhibit?
Face-2-Face is the Most Cost Effective Way
to Develop New Customers
New England

Design-2-Part Show
Marlborough, MA • September 27 & 28, 2023
Royal Plaza Trade Center
Wednesday 9:00 – 4:00 • Thursday 9:00 – 3:30
Market at a Glance:
An average of 240,000 manufacturers were employed in Massachusetts in 2022. In addition, total output from manufacturing equaled $56.14 billion in 2021. ~ NAM
If combined, the six New England states would be the 7th largest state in manufacturing output. ~ NAM
Top manufacturing sectors in Massachusetts include computer and electronic products, chemical products, fabricated metal products, and machinery. ~ NAM
Over 95% of the New England population is within 180 miles of the show.~ NAM
Manufacturing sector in Massachusetts grew 4.3% in 2022. ~ IBIS World
About the Show
Get immediate business – over 2/3 of the visitors in 2022 were looking to purchase within 6 months.
The longest running manufacturing trade show in New England.
Free on-site parking for attendees and exhibitors.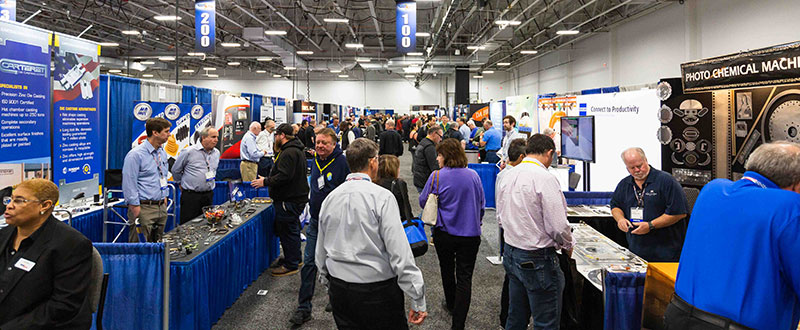 Promotional Radius to Include: Massachusetts, Connecticut, New York, New Hampshire, Rhode Island, Vermont, and Maine.
Exclusive Promotion…
The only tradeshow in the region to exclusively feature exhibitors who specialize in design and contract manufacturing services.
Easy Access to the Show…
A convenient alternative to downtown Boston, the trade center is located within minutes of four major highways: I-90/Mass Pike, I-495, I-290, and I-95. Click here to view a map of the area.
Partial List of
Regional Attendees
ABIOMED
ACUMENTRICS
AMAZON ROBOTICS
AMPHENOL ALDEN PRODUCTS
ANALOG DEVICES INC
AXCELIS TECHNOLOGIES
BAKER HUGHES
BAXTER
BOSE CORPORATION
BOSTON SCIENTIFIC
BROOKS AUTOMATION
CANDELA MEDICAL
COGNEX
COLLINS AEROSPACE
CURTIS INDUSTRIES
CYTIVA
DELL TECHNOLOGIES
DESKTOP METAL
DIAMOND ANTENNA & MICROWAVE
DIVERSIFIED TECHNOLOGIES INC
DYNISCO INSTRUMENTS
EDGETECH
ENTEGRIS
ERGONOMIC PRODUCTS
EVOQUA WATER TECHNOLOGIES
FLIR SYSTEMS
FUELCELL ENERGY
GUARDAIR
HAMILTON STORAGE
HENKE SASS WOLF OF AMERICA
HOLOGIC
IPG PHOTONICS
KARL STORZ ENDOVISION
LEIDOS
MATEC INSTRUMENTS
MAXON MOTOR
MEDICA CORPORATION
MICROLINE SURGICAL
MURATA POWER SOLUTIONS
NEW BALANCE ATHLETICS
NOVA BIOMEDICAL
NUVERA FUEL CELLS
OLYMPUS CORPORATION
P & G GILLETTE
PERKIN ELMER
PRATT AND WHITNEY
QINETIQ
RAYTHEON
ROCKWELL AUTOMATION
SCHNEIDER ELECTRIC
SENKO ADVANCED COMPONENTS
SENSATA TECHNOLOGIES
SIKORSKY AIRCRAFT
SPECTRUM LIGHTING
STANLEY BLACK & DECKER
TELEFLEX
THERMO FISHER SCIENTIFIC
UTC AEROSPACE
VICARIOUS SURGICAL
WATERS CORP


Proven Results...
% Based on 2022 Marlborough, MA Show
Attendee Profile
(Engineering, Purchasing, Corporate Management)
Significant Influence
33.2%
Final Decision
30.5%
Recommend Vendors
29.3%
93% Involved in the Decision to Outsource
Regional Attendance
| | |
| --- | --- |
| Marlborough, MA 2022 | 1,545 |
| Marlborough, MA 2021 | 1,211 |
| Marlborough, MA 2019 | 1,712 |
| Marlborough, MA 2018 | 1,861 |
Top Industries Represented
Electronics
Electronics Mfg., Computers/Subsystems,
Instrumentation & Controls
13.1%
Medical
12.7%
Machinery
6.9%
Aerospace/Aviation
5.8%
Government/Defense
4.3%

Energy/Utilities
2.7%
Automotive
2.5%