Why Exhibit?
Face-2-Face is the Most Cost Effective Way
to Develop New Customers
Midwest

Design-2-Part Show
Indianapolis, IN • October 18 & 19, 2023
Indiana Convention Center

Market at a Glance:
Indianapolis' advanced manufacturing industry is the 2nd largest industry sector in the U.S. ~ Life in Indy
The state of Indiana is home to 9,738 manufacturing companies, employing 541,000 workers. ~ MNI / NAM
Job gains across the state were led by Pharmaceutical/Medicine Manufacturing. ~ NAM
Indiana has the highest concentration of manufacturing jobs in the nation. 25% of Indiana's economic output is based in manufacturing. ~ IEDC
Indiana's automotive industry is comprised of 5 major OEM assembly plants and over 500 automotive suppliers. ~ IEDC
Since 2009, Indiana has created over 93,000 manufacturing jobs. Over 25% of Indiana's economic output is based in the manufacturing sector. ~ IEDC
About the Show
Get immediate business—52% of the last show's visitors were looking to purchase within 6 months.
Meet the decision makers—58% of the attendees to the last show had the final decision or significant influence.
No union fees or extra drayage costs.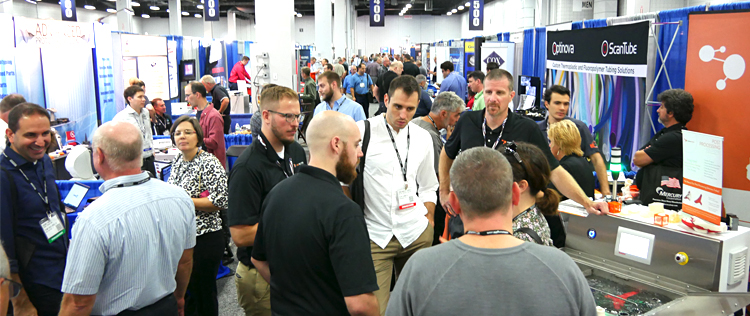 Promotional radius to include: Michigan, Indiana, Ohio, Illinois, Missouri, and Kentucky.
Exclusive Promotion…
The only trade show in the region to feature exhibitors who specialize in design and contract manufacturing services.
Easy Access to the Show…
Four interstate highways intersect in central Indiana, making the Indianapolis Region the leading metro area in America with direct interstate access to other markets. Click here to view a map of the area.
Partial List of
Regional Attendees
ACUITY BRANDS LIGHTING
AERO INDUSTRIES
AISIN DRIVETRAIN INC
ALCOA
ALLIED MOTION
ALLISON TRANSMISSION
ALTRA MOTION
APTIV
AUTOMATIC POOL COVERS
BARLETTA BOATS
BORGWARNER
BRINLY HARDY COMPANY
CATERPILLAR
CLARKE FIRE PROTECTION PROD
COOK MEDICAL
CUMMINS INC
DAIMLER TRUCKS NORTH AMERICA
DAYTON PROGRESS
DELPHI TECHNOLOGIES
DELTA FAUCET COMPANY
DORMAKABA
DRAPER INC
ELI LILLY AND COMPANY
ENGINEERED MEDICAL SYSTEMS
FORD METER BOX COMPANY
FRANKLIN ELECTRIC
GE APPLIANCES
GECOM CORPORATION
GROTE INDUSTRIES
HEARTLAND AUTOMOTIVE
HELMER SCIENTIFIC
HILLROM
H-P PRODUCTS INC
JACKSON SYSTEMS
JOHNSON AND JOHNSON
KIMBALL INTERNATIONAL
LAFAYETTE VENETIAN BLIND
LINDAL NORTH AMERICA
MARIAN INC
NATIONAL OILWELL VARCO
NSK CORPORATION
POINT MEDICAL CORP
PRECISION TURBO AND ENGINE
PRO DOOR MANUFACTURING
RIDETECH
ROCHE DIABETES CARE INC
ROLLS-ROYCE
RYOBI
SACOMA
SCHUETZ CONTAINER SYSTEMS
SIEMENS ENERGY
SMC CORPORATION OF AMERICA
SUBARU OF INDIANA
URSCHEL
VALEO
VESTIL MANUFACTURING
VISTA MANUFACTURING
WOOD-MIZER LLC
ZIMMER BIOMET
ZOELLER PUMP COMPANY


Proven Results...
% Based on 2021 Indianapolis, IN Show
Attendee Profile
(Engineering, Purchasing, Corporate Management)
Final Decision
29.5%
Significant Influence
28.8%
Recommend Vendors
25.0%
83% Involved in the Decision to Outsource
Regional Attendance
| | |
| --- | --- |
| Akron, OH 2022 | 1,311 |
| Indianapolis, IN 2021 | 983 |
| Indianapolis, IN 2019 | 1,162 |
| Akron, OH 2018 | 1,368 |
Top Industries Represented
Automotive
15.8%
Electronics
Electronics Mfg., Computers/Subsystems,
Instrumentation & Controls
7.4%
Aerospace/Aviation
6.1%
Machinery
5.0%
Medical
3.9%
Transportation
3.4%

Furniture
2.3%
Appliance
2.1%
Agriculture
2.0%