Why Exhibit?
Face-2-Face is the Most Cost Effective Way
to Develop New Customers
Southeast

Design-2-Part Show
Atlanta, GA • March 29 & 30, 2023
Cobb Galleria Centre
Wednesday 9:30 – 3:00 • Thursday 9:30 – 3:00
Market at a Glance:
Georgia is a national leader in advanced manufacturing, outpacing the U.S in 10-year GDP growth in the manufacture of products including machinery, electrical equipment & components, and fabricated metals. ~ Georgia.org
Manufacturing of all types is soaring in the state, with over 11,000 companies employing an estimated 393,500 workers in 2021. ~ NAM
The state has a strong transportation system that supports manufacturers with a variety of efficient logistic operations.

Hartsfield-Jackson Atlanta International Airport is the busiest and most efficient.
Port of Savannah is the largest single-container-terminal in North America.
The Cordele Inland Port provides access to southwest Georgia, southern Alabama, and western Florida.
I-95 & I-16 allow easy access to high-speed truck routes ~ Georgia.org
About the Show
Get immediate business – over 50% of the visitors from our 2022 Spring Shows were looking to purchase within 6 months.
No union fees or extra drayage costs.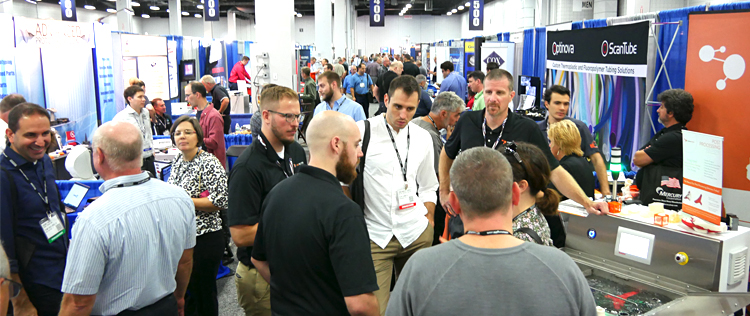 Promotional radius to include: Alabama, Florida, Georgia, North Carolina, South Carolina, and Tennessee.
Exclusive Promotion…
The Southeast Design-2-Part Show is the only trade show in the region to exclusively feature exhibitors who specialize in design and contract manufacturing services.
Easy Access to the Show…
The Cobb Galleria is located just outside the I-285 loop, offering visitors convenient access from the entire region. Click here to view a map of the area.
Partial List of
Regional Attendees
ABBOTT
ACUITY BRANDS
ADAC AUTOMOTIVE
ADVANCE MEDICAL DESIGNS
ALCON CORP
ALPHA TECHNOLOGIES SERVICES
AMERIMAX HOME PRODUCTS
AMES TAPING TOOLS
ANTHONY INTERNATIONAL
AT&T BUSINESS ADV SOLUTIONS
ATLANTIC PACIFIC EQUIPMENT
ATLAS COPCO
AUTOMATED LOGIC
AVANOS MEDICAL
BAE SYSTEMS INC
BAUSCH AND LOMB
BECTON DICKINSON
BLUE BIRD CORPORATION
BOEING
BOSCH
CARRIER
CATERPILLAR
CHAMPION AEROSPACE
CHART INDUSTRIES
CLUB CAR
COOPER LIGHTING
DANFOSS POWER SOLUTIONS
DELTA AIR LINES
DEUTZ CORP
DINEX EMISSION INC
DURACELL
EATON AEROSPACE
ECOLAB
FISCHER CONNECTORS
GARDNER DENVER
GENERAL ELECTRIC INTL
HALYARD HEALTH
HILLPHOENIX
HITACHI AUTOMOTIVE SYSTEMS
HONDA LOCK
HONEYWELL INTERNATIONAL
JOHN DEERE
JOHNSON AND JOHNSON VISION
KASON INDUSTRIES
KYSOR WARREN
LOCKHEED MARTIN AERONAUTICS
MANDO AMERICA CORPORATION
MEDLINE INDUSTRIES INC
MEGGITT TRAINING SYSTEMS
MICROMERITICS
MUELLER WATER PRODUCTS
NEWELL BRANDS
NORDSON CORP
NORTHROP GRUMMAN
PANASONIC AUTOMOTIVE
PANDUIT
PURE POWER TECHNOLOGIES
REHRIG PACIFIC COMPANY
ROSS CONTROLS
SEALED AIR
SIEMENS ENERGY
STANDARD MOTOR PRODUCTS
VERESCENCE
WIKA INSTRUMENTS
YAMAHA MOTOR COMPANY
YOKOGAWA CORP OF AMERICA


Proven Results...
% Based on 2022 Atlanta, GA Show
Attendee Profile
(Engineering, Purchasing, Corporate Management)
Final Decision
36.0%
Significant Influence
32.0%
Recommend Vendors
27.0%
95% Involved in the Decision to Outsource
Regional Attendance
| | |
| --- | --- |
| Atlanta, GA 2022 | 1,126 |
| Atlanta, GA 2021 | 1,004 |
| Atlanta, GA 2019 | 1,314 |
| Atlanta, GA 2018 | 1,173 |
Top Industries Represented
Automotive
8.3%
Electronics
Electronics Mfg., Computers/Subsystems,
Instrumentation & Controls
7.7%
Medical
5.9%
Machinery
5.2%
Aerospace/Aviation
5.4%
Government/Defense
2.7%
Sporting Goods
2.7%

Transportation Equipment
2.0%

Energy/Utilities
2.0%