Why Exhibit?
Face-2-Face is the Most Cost Effective Way
to Develop New Customers
Texas

Design-2-Part Show
Arlington, TX • March 1 & 2, 2023
Arlington Expo Center
Wednesday 9:30 – 3:00 • Thursday 9:30 – 3:00
Market at a Glance:
Arlington is quickly becoming the regional center for aerospace R&D. Some of the leading aerospace companies that have made Arlington home are Lockheed Martin, Bell Helicopter, Raytheon, and Boeing. ~ ArlingtonTX.gov

Texas is one of the top 10 states for medical device workers. Arlington's positioning in the state makes it an ideal location for medical device manufacturing and distribution. ~ ArlingtonTX.gov
Pharmaceutical and Medical Manufacturing and Aerospace Product and Parts Manufacturing ranked in the top 2 as major manufacturing sectors for job growth in 2020.~ NAM
About the Show
Get immediate business – over 50% of the visitors from our 2022 Spring Shows were looking to purchase within 6 months.
No union fees or extra drayage costs.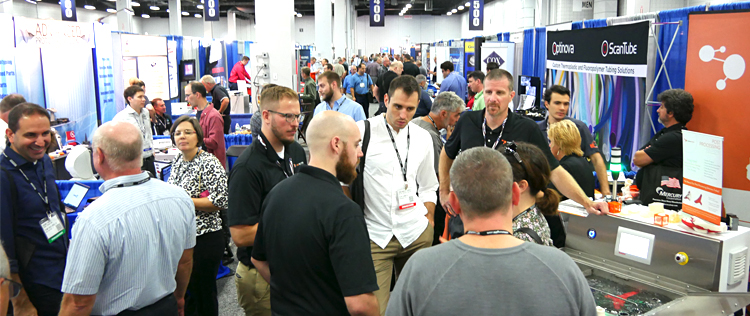 Promotional radius to include: Texas, Oklahoma, Arkansas, and Louisiana.
Exclusive Promotion…
The Texas Design-2-Part Show is the only trade show in the region to exclusively feature exhibitors who specialize in design and contract manufacturing services.
Easy Access to the Show…
Hosted at the Arlington Expo Center, which is situated in the heart of the Entertainment District. It is surrounded by Globe Life Park (home of the Texas Rangers), AT&T Stadium (home of the Dallas Cowboys), fine hotels, and quality restaurants.
Click here to view a map of the area.

Partial List of
Regional Attendees
ABBOTT LABORATORIES
AIRBORN INC
AIRBUS HELICOPTERS
AMPHENOL
B BRAUN MEDICAL
BAE SYSTEMS
BAKER HUGHES
BELL HELICOPTER
COLLINS AEROSPACE
COMMSCOPE
CONTROL PRODUCTS CORP
CORNING OPTICAL COMM
ELBIT SYSTEMS OF AMERICA
EPIROC DRILLING SOLUTIONS
ESAB
FIRST CO
FLAMBEAU
GALT MEDICAL CORP
GENERAL DYNAMICS MISSION SYS
GENESYS AEROSYSTEMS
HALLIBURTON
HILTI
JOHNSON CONTROLS
KAWASAKI
KLEIN TOOLS
KOMATSU MINING CORP GROUP
KONE
KONGSBERG AUTOMOTIVE
KRUEGER
KUBOTA TRACTOR CORP
LAERDAL MEDICAL
LOCKHEED MARTIN
LUCID AUDIO
LUMINATOR
MARATHON NORCO AEROSPACE IN
MEDTRONIC
MI WINDOWS AND DOORS
MOORECO INC
NOKIA
NOKIA SOLUTIONS & NETWORKS
OIL STATES INDUSTRIES
OPTEX SYSTEMS
OSTEOMED
OWEN OIL TOOLS
PACCAR
PARKER HANNIFIN AEROSPACE
PETERBILT MOTORS COMPANY
PRATT & WHITNEY
QUALCOMM
QUALITY ASPIRATORS
RAYHEON
ROCHESTER GAUGES
SAFRAN
SANMINA
SELLMARK CORP
SIEMENS
SIKORSKY AIRCRAFT
SOLAR TURBINES
TEXAS INSTRUMENTS
THERMO FISHER SCIENTIFIC
TOYOTA
TRIUMPH AEROSTRUCTURES
UNIVERSAL FOREST PRODUCTS
UTEX INDUSTRIES
WABTEC
WATCHGUARD VIDEO

Proven Results...
% Based on 2022 Arlington Show
Attendee Profile
(Engineering, Purchasing, Corporate Managment)
Final Decision
37%
Significant Influence
32%
Recommend Vendors
21%
90% Involved in the Decision to Outsource
Regional Attendance
| | |
| --- | --- |
| Arlington, TX 2022 | 1,401 |
| Grapevine, TX 2021 | 1,496 |
| Grapevine, TX 2020 | 1,854 |
| Grapevine, TX 2019 | 1,487 |
Top Industries Represented
Aerospace/Aviation
10.2%
Electronics
Electronics Mfg., Computers/Subsystems,
Instrumentation & Controls
9.1%
Automotive
6.6%
Machinery
5.0%
Energy/Utilities
4.8%
Medical
3.4%
Government/Defense
2.6%
Sporting Goods
2.4%