Why Exhibit?
Face-2-Face is the Most Cost Effective Way
to Develop New Customers
New England

Design-2-Part Show
Marlborough, MA • September 28 & 29, 2022
Royal Plaza Trade Center

Market at a Glance:
Massachusetts has 236,000 manufacturing employees. In the neighboring states of New Hampshire and Rhode Island, there are 104,000 manufacturing employees combined. ~ NAM
If combined, the six New England states would be the 7th largest state in manufacturing output while only being the 18th largest state in the area. ~ NAM
Combined, New England would also be the 3rd largest state in manufacturing jobs. ~ Manufacturers' News
In 2020, Pharmaceutical and Medical Manufacturing was ranked #1 in job growth. ~ NAM
Among the six New England states, the leading industries are Computer and Electronic Products, Food Kindred Products, Aerospace and other Transportation Equipment, and Fabricated Metals. ~ NAM
Over 95% of the New England population is within 180 miles of the show. ~ NAM
Up-swing in Manufacturing post Coronavirus:
"As manufacturers emerge from the pandemic, the key once again centers on the spirit of innovation to help them thrive once more and to help the industry rebound. As one manufacturer recently stated in a Forbes article, 'We're looking at five years of innovation over the next 18 months.'" ~ Hartford Business
The latest Industrial Production and Capacity Utilization report from the Federal Reserve shows manufacturing production and output continued to recover in June. Industrial production rose 5.4% last month, following a slight gain in May of 1.4%. ~ Industry Week
"In June 2020, gains were mostly led by transportation equipment industry, followed by miscellaneous durable goods manufacturing; which shot up 25.5%. Plastics and rubber products also posted gains, adding 21,000 jobs, while machinery was closely behind at 17,000 new jobs. Furniture/textiles fared well adding 12,000 positions and fabricated metal products increased by 11,000 jobs." ~ Industry Select
"Nearly 50% of North American tooling shops are quoting on programs historically produced in China and 34% of production shops are increasing North American sourcing." ~ Mold Making Technology
According to the ISM, U.S. manufacturing activity shot up 9.5% in June to an expansionary level of 52.6% — the sharpest increase recorded since 1980. The ISM's Production Index skyrocketed 24.1% in June – an increase not seen since August 1952. The index now sits in expansion, measuring 57.3%. ~ IndustryNet
The Reshoring Initiative lists more than 1,800 companies that have reshored parts of their operations as of Jan. 1, 2019, including 3M, Apple, Dillard's, GM, KitchenAid, Oracle, Pfizer and Stanley Black & Decker. Going forward in light of COVID-19 risks, 64% of 879 North American manufacturing and industrial professionals said they were "likely to bring manufacturing production and sourcing back to North America," in a Thomas survey. ~ Supply Chain Dive
About the Show
Get immediate business – over two-thirds of the visitors in 2021 were looking to purchase within 6 months.
The longest running manufacturing show in New England.
Easiest set-up and breakdown of any tradeshow in the region no union fees or extra drayage costs.
Free on-site parking for attendees and exhibitors.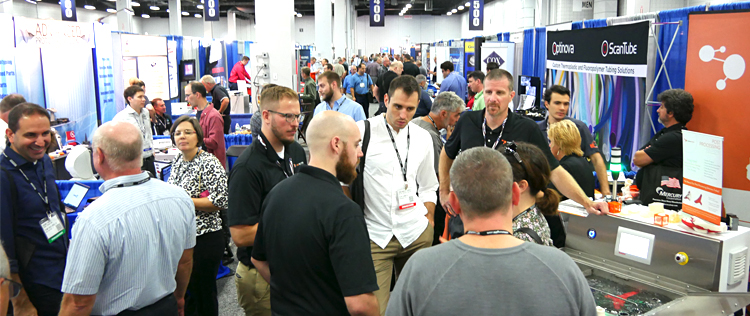 Promotional Radius to Include: Massachusetts, Connecticut, New York, New Hampshire, Rhode Island, Vermont, and Maine.
Exclusive Promotion…
The only tradeshow in the region to exclusively feature exhibitors who specialize in design and contract manufacturing services.
Easy Access to the Show…
A convenient alternative to downtown Boston, the trade center is located within minutes of four major highways: I-90/Mass Pike, I-495, I-290, and I-95. Click here to view a map of the area.
Partial List of
Regional Attendees
3M
ACUSHNET CO
APPLIED MATERIALS
ATLAS DEVICES
AXCELIS TECHNOLOGIES
BAE SYSTEMS
BARRY CONTROLS INC
BOSE CORPORATION
BOSTON SCIENTIFIC
BROOKFIELD AMETEK
BROOKS AUTOMATION INC
BRUKER CORP
CARDINAL HEALTH
CELERA MOTION
CEQUR
COBHAM
CORTRON INC
DAVID CLARK CO INC
EVOQUA WATER TECHNOLOGIES
FLIR SURVEILLANCE CO INC
GE HEALTHCARE
GENTEX OPTICS
GUARDAIR CORP
HITEC SENSOR DEVELOPMENTS
HOLOGIC INC
HONEYWELL
HORIZON TECHNOLOGY
HUSSEY SEATING
HUTCHINSON AEROSPACE & IND
IDEX HEALTH & SCIENCE
IMAGE STREAM MEDICAL
IPG PHOTONICS
IWAKI AMERICA
KAHR ARMS
KAMAN CORP
KARL STORZ
KEURIG GREEN MOUNTAIN
LEGRAND
LS STARRETT
MEDTRONIC
MILLIPORE SIGMA
MKS INSTRUMENTS
NEXCELOM BIOSCIENCE
NOVAMETRIX MEDICAL SYS
NRG SYSTEMS
NUVERA FUEL CELLS
OTIS ELEVATOR
PARKER HANNIFIN CORP
QINETIQ
RAYTHEON CO
RIGAKU ANALYTICAL DEVICES
ROCKWELL AUTOMATION
SAVAGE ARMS
SEALED AIR CORP
SYNQOR
THERMOFISHER SCIENTIFIC
UNITED TECH RESEARCH CENTER
VELCRO GROUP CORP
WATERS CORP
ZOLL MEDICAL


Proven Results...
% Based on 2021 Marlborough, MA Show
Attendee Profile
(Engineering, Purchasing, Corporate Management)
Final Decision
29.5%
Significant Influence
28.6%
Recommend Vendors
22.5%
81% Involved in the Decision to Outsource
Regional Attendance
| | |
| --- | --- |
| Marlborough, MA 2021 | 1,211 |
| Marlborough, MA 2019 | 1,712 |
| Marlborough, MA 2018 | 1,861 |
| Marlborough, MA 2017 | 1,681 |
Top Industries Represented
Electronics
Electronics Mfg., Computers/Subsystems,
Instrumentation & Controls
14.0%
Medical
9.9%
Aerospace/Aviation
6.8%
Machinery
5.0%
Government/Defense
4.7%

Automotive
3.7%
Energy/Utilities
3.2%
Sporting Goods
2.1%