Why Exhibit?
Face-2-Face is the Most Cost Effective Way
to Develop New Customers
Southeast

Design-2-Part Show
Greenville, SC • November 9 & 10, 2022
Greenville Convention Center
Wednesday 9:30 – 3:00 • Thursday 9:30 – 3:00
Market at a Glance
South Carolina is home to 6,000 manufacturing facilities, employing about 30% of the work force. ~ SC Manufacturing Alliance
South Carolina ranked 6th in "Best Business Climate". ~ Business Facilities, Site Selection
South Carolina ranked 9th in "Automotive Manufacturing Strength". ~ Business Facilities, Site Selection
South Carolina ranked 8th in "Best States for Business". ~ Chief Executive, Site Selection
In the 2018 "Most Competitive (U.S.) Cities" report, the Charlotte-Concord-Gastonia, NC-SC area ranked number five in "Automotive". ~ Site Selection
Up-swing in Manufacturing post Coronavirus
"As manufacturers emerge from the pandemic, the key once again centers on the spirit of innovation to help them thrive once more and to help the industry rebound. As one manufacturer recently stated in a Forbes article, "We're looking at five years of innovation over the next 18 months."" ~ Hartford Business
The latest Industrial Production and Capacity Utilization report from the Federal Reserve shows manufacturing production and output continued to recover in June. Industrial production rose 5.4% last month, following a slight gain in May of 1.4%. ~ Industry Week
"Nearly 50% of North American tooling shops are quoting on programs historically produced in China and 34% of production shops are increasing North American sourcing." ~ Mold Making Technology
"In June 2020, gains were mostly led by transportation equipment industry, followed by miscellaneous durable goods manufacturing; which shot up 25.5%. Plastics and rubber products also posted gains, adding 21,000 jobs, while machinery was closely behind at 17,000 new jobs. Furniture/textiles fared well adding 12,000 positions and fabricated metal products increased by 11,000 jobs" ~ Industry Select
According to the ISM, U.S. manufacturing activity shot up 9.5% in June to an expansionary level of 52.6% — the sharpest increase recorded since 1980. The ISM's Production Index skyrocketed 24.1% in June – an increase not seen since August 1952. The index now sits in expansion, measuring 57.3%. ~ IndustryNet
The Reshoring Initiative lists more than 1,800 companies that have reshored parts of their operations as of Jan. 1, 2019, including 3M, Apple, Dillard's, GM, KitchenAid, Oracle, Pfizer and Stanley Black & Decker. Going forward in light of COVID-19 risks, 64% of 879 North American manufacturing and industrial professionals said they were "likely to bring manufacturing production and sourcing back to North America," in a Thomas survey." ~ Supply Chain Dive
About the Show
74% of attendees from 2021 were within a 90 mile radius of the show.
Free on-site parking with easy break down, no union fees or extra drayage costs.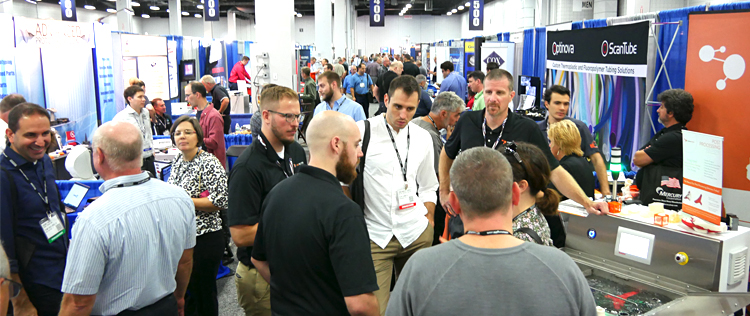 Promotional Radius to Include: South Carolina, North Carolina, Virginia, Alabama, Georgia, and Tennessee.
Exclusive Promotion…
The only tradeshow in the region to exclusively feature exhibitors who specialize in design and contract manufacturing services.
Easy Access to the Show…
Located along I-85, a major freight corridor of the Southeast, and within easy access to interstate highways I-185, I-385, a nd I-26. Click here to view a map of the area.
Partial List of
Regional Attendees
3D SYSTEMS
A O SMITH WATER HEATERS
AFL TELECOMMUNICATIONS
AMBAC INTERNATIONAL
APEX TOOL GROUP
ATLAS COPCO
ATOTECH
AURORA TECHNOLOGIES INC
AVM INDUSTRIES
AVTEC INC
AVX CORPORATION
AWL AUTOMATION LLC
BORAL INDUSTRIES
BORGWARNER POWERDRIVE SYSTEMS
BOSCH REXROTH CORPORATION
BRITAX
CATERPILLAR INC
CHAMPION AEROSPACE
CHICAGO PNEUMATIC
COMPX SECURITY PRODUCTS
CONBRACO INDUSTRIES
CORNELL DUBILIER
CRYOVAC DIV SEALED AIR CORP
DANFOSS POWER SOLUTIONS
DANTHERM COOLING
EATON
ECLIPSE AUTOMATION
EDGEWATER AUTOMATION
FN AMERICA
GENERAL ELECTRIC CO
HANSEN INTERNATIONAL
HARSCO RAIL
HARTNESS INTERNATIONAL
HONDA OF SOUTH CAROLINA
HONEYWELL
HUBBELL
HUSQVARNA GROUP
JTEKT NORTH AMERICA
MCLAUGHLIN BODY COMPANY
METSO
MICHELIN
MILLIKEN & COMPANY
MONTEFERRO
OWENS CORNING
PATTERSON FAN COMPANY
PFC BRAKES
PURE POWER TECHNOLOGIES
RELIABLE SPRINKLER
RHYTHMLINK INTERNATIONAL
SAM CARBIS SOLUTIONS GROUP
SCHAEFFLER GROUP USA
SEALED AIR
SONOCO PRODUCT
SPORTSMAN BOATS
STANDARD MOTOR PRODUCTS
TIMKEN
TRANSTECH
TUFFALOY PRODUCTS INC
UTC AEROSPACE SYSTEMS
ZIMA CORP


Proven Results...
% Based on 2021 Raleigh, NC Show
Attendee Profile
(Engineering, Purchasing, Corp. Mgmt.)
Significant Influence
29.2%
Final Decision
26.9%
Recommend Vendors
22.0%
78% Involved in the Decision to Outsource
Regional Attendance
| | |
| --- | --- |
| Raleigh, NC 2021 | 1,011 |
| Charlotte, NC 2019 | 1,094 |
| Raleigh, NC 2018 | 892 |
| Charlotte, NC 2017 | 995 |
Top Industries Represented
Electronics
Electronics Mfg., Computers/Subsystems,
Instrumentation & Controls
8.2%
Automotive
8.0%
Medical
6.7%
Aerospace/Aviation
4.8%
Machinery
4.6%
Energy/Utilities
3.9%
Government/Defense
2.4%

Telecommunications
2.4%
Transportation Equipment
2.2%