Why Exhibit?
Face-2-Face is the Most Cost Effective Way
to Develop New Customers
Southern California

Design-2-Part Show
Long Beach, CA • October 14 & 15, 2020
Long Beach Convention Center
Wednesday 9:30 – 4:00 • Thursday 9:30 – 3:00
About the Show:
Get immediate business – 60% of the last show visitors were looking to purchase within 6 months.
Meet the decision makers – 61% of attendees of the last show had final decision or significant influence.
No union fees or extra drayage costs.
The Region at a Glance:
California has a manufacturing employment of 1,325,710 workers, the highest in the country.
(National Association of Manufacturers)
California alone is responsible for over 13% of the Total Manufacturing Output of the United States. (National Association of Manufacturers)
California ranked #2 in "Aerospace Leaders' and #10 in "Automotive Manufacturing Strength" (Business Facilities Magazine)
California ranked #1 in "Technology and Innovation." (CNBC Top States for Business)
Los Angeles-Long Beach-Anaheim ranked 3rd in U.S. in "The World's Most Competitive Cities – Aerospace". (Site Selection Magazine)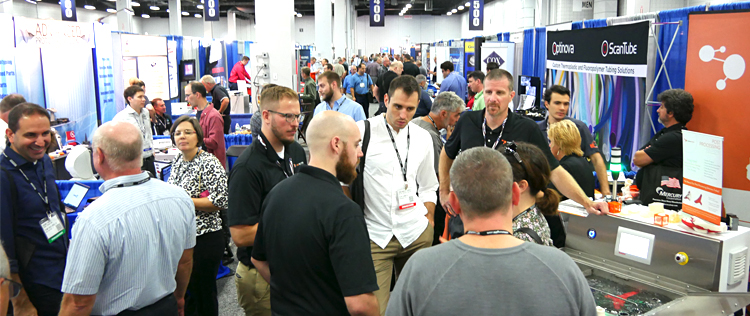 Promotional Radius to Include: California,
Nevada, and Arizona.
Exclusive Promotion…
The only tradeshow in the region to exclusively feature exhibitors who specialize in design and contract manufacturing services.
Easy Access to the Show…
The center is located at the end of Interstate 710 and conveniently located within minutes of I-110, I-605 and I-405. Click here to view a map of the area.
Partial List of
Regional Attendees
ABBOTT
ACCLARENT INC
ADVANCED FLOW ENGINEERING
AFE POWER
AMADA AMERICA INC
BAUSCH & LOMB
BELCO PACKAGING SYSTEMS
BIOSENSE WEBSTER
BOBRICK WASHROOM EQUIP
BOEING
BOURNS
CAPSTONE TURBINE CORPORATION
CARL ZEISS MEDITEC
CHERRY AEROSPACE
DEXCOM
DOW-KEY MICROWAVE
EASTON
EDWARDS LIFESCIENCES
EMTEK PRODUCTS INC
EXTRON ELECTRONICS
FLUIDMASTER
FOXCONN INTERCONNECT TECH
GLIDEWELL LABORATORIES
GULFSTREAM AEROSPACE
HONDA PERFORMANCE DEV
HONEYWELL AEROSPACE
HUTCHINSON AEROSPACE
HYDRAULICS INTERNATIONAL INC
JET PROPULSION LAB
JOHNSON & JOHNSON
KARMA AUTOMOTIVE LLC
KENVOX INDUSTRIAL GROUP
LISI AEROSPACE
MEGGITT DEFENSE SYSTEMS
MOOG INC
NLS LIGHTING
NOARK ELECTRIC NORTH AMERICA
NORTHROP GRUMMAN
OSI ELECTRONICS
PANASONIC
PARKER HANNIFIN
PELICAN PRODUCTS
PILOT AUTOMOTIVE
PPG AEROSPACE
PRATT WHITNEY ROCKETDYNE
RAYTHEON COMPANY
REGENT AEROSPACE
REVASUM
RICOH PRINTING SYSTEMS AMERICA
ROBINSON HELICOPTER
ROCKWELL COLLINS
ROLLS-ROYCE
SENSOREX
SKURKA AEROSPACE
SONENDO
SPACEX
SPECTROLAB INC
TELEDYNE CONTROLS
THALES AVIONICS
THERMO FISHER LSG
WALT DISNEY IMAGINEERING
WESTERN DIGITAL
WILBUR CURTIS
ZODIAC AEROSPACE


Proven Results...
% Based on 2018 Long Beach, CA Show
Attendee Profile
(Engineering, Purchasing, Corp. Mgmt.)
Significant Influence
31.0%
Final Decision
30.0%
Recommend Vendors
22.2%
83% Involved in the Decision to Outsource
Regional Attendance
| | |
| --- | --- |
| Long Beach , CA 2018 | 1,859 |
| Long Beach , CA 2016 | 1,673 |
| Long Beach , CA 2014 | 1,781 |
| Long Beach , CA 2012 | 1,492 |
Top Industries Represented
Aerospace/Aviation
18.7%
Automotive
12.0%
Electronics
Electronics Mfg., Computers/Subsystems,
Instrumentation & Controls
11.9%
Medical
8.7%
Machinery
5.0%
Energy/Utilities
2.9%
Hardware
2.7%
Government/Defense
2.4%

Transportation Equipment
2.0%

Heating & Cooling
1.2%