Why Exhibit?
Face-2-Face is the Most Cost Effective Way
to Develop New Customers
Greater Ohio

Design-2-Part Show
Akron, OH • October 7 & 8, 2020
John S. Knight Center
Wednesday 9:00 – 3:00 • Thursday 9:00 – 3:00
About the Show:
Get immediate business – 58% of the last show visitors were looking to purchase within 6 months.
Meet the decision makers – 55% of attendees of the last show had final decision or significant influence.
No union fees or extra drayage costs.
The Region at a Glance:
Ohio is home to 12,507 manufacturers employing 699,060 workers. Industrial machinery and equipment accounts for the most manufacturing employment with 16%. (NAM)
Ohio is at the center of the motor vehicle industry – 66% of North American light vehicle production is in Ohio or within 500 miles of its borders. (Ohio Development Services Agency)
Ohio is the second largest automotive manufacturer in the U.S. Thirteen different models are produced in the state, delivering more than one million cars annually. (Cleveland Plus)
Northeast Ohio has become a major hub for Aerospace and Aviation representing a 3.2 billion industry. (Cleveland Plus)
Northeast Ohio is the world's leading polymer and materials manufacturing center employing over 26,000 workers. (Cleveland Plus)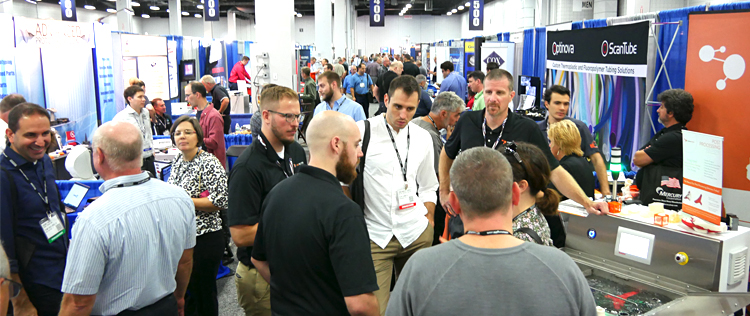 Promotional Radius to Include: Ohio, Pennsylvania, Michigan, New York, and West Virginia.
Exclusive Promotion…
The only tradeshow in the region to exclusively feature exhibitors who specialize in design and contract manufacturing services.
Easy Access to the Show…
From I-71, I-76, I-77, I-271, Rt. 8, and the Ohio Turnpike. Plus, close proximity to Akron-Canton Airport (15 minutes) and Cleveland Hopkins International Airport (40 minutes). Click here to view a map of the area.
Partial List of
Regional Attendees
AGRINOMIX LLC
AIRSTREAM INC
ALTRONIC
AMERICAN STANDARD BRANDS
APPLIED MEDICAL TECHNOLOGY
ARIEL CORP
ATRICURE INC
BECKETT GAS
BIONIX
BRIDGESTONE
BWX TECHNOLOGIES
CARLISLE BRAKE & FRICTION
COHERENT
CROWN EQUIPMENT CORP
DELTA SYSTEMS INC
DIEBOLD INC
EASTMAN KODAK
ETHICON SURGICAL CARE
FALLS FILTRATION
FORTUNE BRANDS PLUMBING
GE HEALTHCARE
GOJO INDUSTRIES INC
GOODYEAR TIRE AND RUBBER
GORMAN RUPP CO
HONDA OF AMERICA
HONEYWELL
HUFFY CORPORATION
JOHNSON AND JOHNSON
KEITHLEY INSTRUMENTS
KINETICS NOISE CONTROL
KOBELCO STEWART BOLLING INC
LAIRD TECHNOLOGIES
LINCOLN ELECTRIC CO
LOCKHEED MARTIN
LORD AEROSPACE
LSI INDUSTRIES
LUK USA LLC
MAGELLAN AEROSPACE
MIDMARK
MILLER WELDMASTER
NEWMAN TECHNOLOGY INC
NIFCO AMERICA
NMG AEROSPACE
NORFOLK NAVAL SHIPYARD
OWENS CORNING
PARKER HANNIFIN
PHILIPS MEDICAL
PREFORMED LINE PRODUCTS
PRESSCO TECHNOLOGY
PROCTER & GAMBLE
RJS CORPORATION
ROCKWELL AUTOMATION
SCHAEFFLER
SP SCIENTIFIC
STANLEY ELECTRIC US
STERIS CORP
SWAGELOK
SYNAPSE BIOMEDICAL
THE ALLEN COMPANY
THE TIMKEN COMPANY
THERMO FISHER SCIENTIFIC
TS TECH AMERICAS


Proven Results...
% Based on 2018 Akron, OH Show
Attendee Profile
(Engineering, Purchasing, Corp. Mgmt.)
Significant Influence
31.3%
Final Decision
23.9%
Recommend Vendors
22.1%
77% Involved in the Decision to Outsource
Regional Attendance
| | |
| --- | --- |
| Akron, OH 2018 | 1,367 |
| Akron, OH 2016 | 1,099 |
| Akron, OH 2014 | 1,055 |
| Akron, OH 2012 | 1,129 |
Top Industries Represented
Automotive
17.8%
Machinery
10.1%
Electronics
Electronics Mfg., Computers/Subsystems,
Instrumentation & Controls
8.7%
Aerospace/Aviation
6.6%
Medical
6.1%
Transportation Equipment
4.1%

Energy/Utilities
3.9%
Hardware
2.2%
Heating
1.7%