Why Exhibit?
Face-2-Face is the Most Cost Effective Way
to Develop New Customers
Southern New England

Design-2-Part Show
Uncasville, CT • December 3 & 4, 2020
Mohegan Sun Exposition Center
Thursday 9:30 – 4:00 • Friday 9:30 – 3:00
About the Show:
Get immediate business – 52% of the visitors to the 2019 Show were looking to purchase within 6 months.
Meet the decision makers – 56% of attendees of the last show had final decision or significant influence.
An exclusive audience – only 8.7% of the 2019 attendees also attended the D2P Marlborough show.
The only tradeshows in New England to exclusively feature exhibitors who specialize in design & contract manufacturing services.
Easiest set-up and breakdown of any tradeshow in the region–no union fees or extra drayage costs at Mohegan Sun.
Free on-site parking at Mohegan Sun for attendees and exhibitors.
Fabulous D2P hotel rate in the new Mohegan Sun Earth Tower.
Three convenient area airports in Providence, RI (52 miles), Hartford, CT (57), and Boston, MA (108).
The Region at a Glance:
Connecticut's manufacturing employment is 160,320 workers. Neighboring states Massachusetts has 244,220 workers and Rhode Island has 40,330 workers. (National Association of Manufacturers)
If combined, the six New England states would be the 7th largest state in manufacturing output while only being the 18th largest state in area. (NAM)
Connecticut ranked #5 best state in "Aerospace". (Business Facilities Magazine)
Hartford, CT ranked 3rd in U.S. in "The World's Most Competitive Cities – Aerospace Product & Part Manufacturing". (Site Selection Magazine)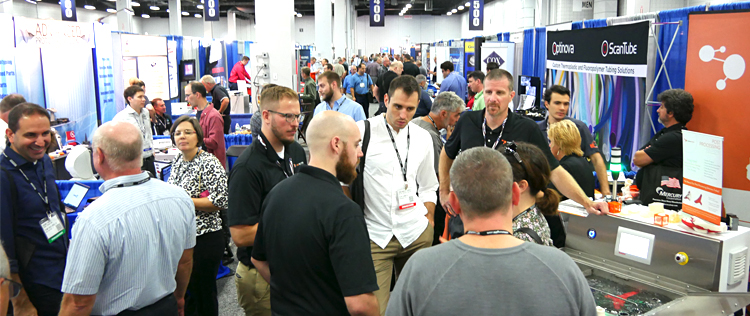 Promotional Radius to Include: Connecticut, Rhode Island, Massachusetts, New Hampshire, Vermont, Maine, and New York.
Exclusive Promotion…
The only tradeshow in the region to exclusively feature exhibitors who specialize in design and contract manufacturing services
Easy Access to the Show…
Three convenient area airports in Providence, RI (52 miles), Hartford, CT (57), and Boston, MA (108)
Partial List of
Regional Attendees
ACCU-TIME SYSTEMS
AMTROL INC
ANALOG DEVICES INC
ANVIL INTERNATIONAL
APPLIED PHYSICAL SCIENCES
ASHCROFT INC
BECTON & DICKINSON
BEEKLEY CORPORATION
BELIMO
BLUECREST INC
BOSE CORP
CABLE COMPONENTS GROUP
CARLING TECHNOLOGIES
COLLINS AEROSPACE
EAGLEPICHER TECHNOLOGIES
EBM PAPST
EEMAX INC
ELECTRIC BOAT
EMERSON
ENFIELD TECHNOLOGIES LLC
EPPENDORF
ETHAN ALLEN INTERIORS
FREEPORT-MCMORAN
FUTURE ELECTRONICS
GENERAL DYNAMICS
HARTFORD STEAM BOILER
HENKEL
HITACHI CABLE AMERICA
HI TECH MACH & FAB
HOLOGIC INC
HUBBELL INCORPORATED
INTUITIVE SURGICAL
JACOBS VEHICLE SYSTEMS
JARVIS PRODUCTS CORP
KARL STORZ ENDOVISION
LEGRAND
LINEMASTER SWITCH CORP
MEDTRONIC
MOTT CORPORATION
NAVAL UNDERSEA WARFARE CTR
NORTHROP GRUMMAN CORP
OF MOSSBERG & SONS INC
OTIS ELEVATOR
PARKER HANNIFIN
PERKIN ELMER
PITNEY BOWES
PRATT AND WHITNEY
PRECISION OPTICS CORP
Q-TRAN
RADIO FREQUENCY SYSTEMS
RAYTHEON
SAVAGE ARMS
SIKORSKY
STANADYNE
TE CONNECTIVITY
THE LEE COMPANY
THE ROBERT E MORRIS CO
TRIUMPH ENGINE CONTROL SYS
VIBCO VIBRATORS
WHELEN ENGINEERING
ZYGO CORPORATION


Proven Results...
% Based on 2019 Uncasville, CT Show
Attendee Profile
(Engineering, Purchasing, Corp. Mgmt.)
Final Decision
28.4%
Significant Influence
27.2%
Recommend Vendors
22.3%
78% Involved in the Decision to Outsource
Regional Attendance
| | |
| --- | --- |
| Uncasville, CT 2019 | 1,847 |
| Marlborough, MA 2018 | 1,857 |
| Marlborough, MA 2017 | 1,677 |
| Marlborough, MA 2016 | 1,847 |
Top Industries Represented
Electronics


Electronics Mfg., Computers/Subsystems Instrumentation & Controls

15.8%
Aerospace/Aviation
13.6%
Medical
11.6%
Machinery
6.9%
Government/Defense
5.0%
Automotive
4.5%
Energy/Utilities
2.6%
Hardware
2.0%
Telecommunications
2.0%