Why Exhibit?
Face-2-Face is the Most Cost Effective Way
to Develop New Customers
Greater Chicago

Design-2-Part Show
Schaumburg, IL • September 15 & 16, 2020
Schaumburg Convention Center
Tuesday 9:30 – 4:00 • Wednesday 9:30 – 3:30
About the Show:
Get immediate business – 52% of last year's visitors were looking to purchase within 6 months.
The only tradeshow in the region to exclusively feature exhibitors who specialize in design & contract manufacturing services.
Located in the Northwest Chicago suburb of Schaumburg in Cook County, the Schaumburg Convention Center features a convenient central location and plenty of free parking.
No union fees or extra drayage costs.
The Region at a Glance:
Illinois has a manufacturing employment of 587,930 workers. (National Association of Manufacturers)
Illinois ranks fourth behind only California, Texas, and Ohio for "Total Manufacturing Output." (National Association of Manufacturers)
Since 2010, Illinois' manufactured goods exports grew 32%, while the national average increased 20%. (National Association of Manufacturers)
In the 2018 "Most Competitive (U.S.) Cities" report, the Chicago-Naperville- Elgin, IL area ranked number one in "Machinery & Equipment" and number two in "Automotive". (Site Selection)
Over one-third of all the manufacturing jobs in Illinois are in Cook County where Schaumburg is located. (Manufacturers' News)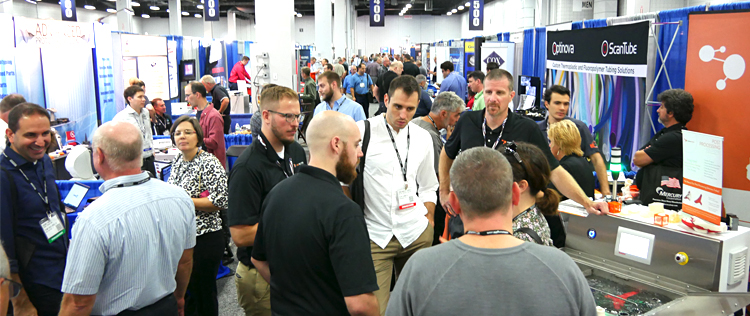 Promotional Radius to Include: Illinois, Wisconsin, Indiana, Michigan, Minnesota, & Iowa
Exclusive Promotion…
The only tradeshow in the region to exclusively feature exhibitors who specialize in design and contract manufacturing services
Easy Access to the Show…
The Schaumburg Convention Center is within convenient access to I-90 and I-290/53 and is just 12 miles from O' Hare Airport. Click here to view a map of the area.
Partial List of
Regional Attendees
ABBOTT LABORATORIES
ALCATEL-LUCENT
ALFA LAVAL
AMSTED RAIL
AVERY DENNISON
BAXTER HEALTHCARE
BOEING
BOMBARDIER RECREATIONAL PROD
BRIGGS & STRATTON
BUEHLER
CHAMPION LABS
CHICAGO DRYER CO
COMMSCOPE
CONTINENTAL AUTOMOTIVE SYS
CORPAK MEDSYSTEMS
CURTISS-WRIGHT
DAYTON SUPERIOR
DELTA POWER CO
EATON
ECOLAB
ELGIN SWEEPER
ELKAY MFG CO
FETCO
FLEXCO
FORD MOTOR CO
FREEDMAN SEATING CO
HARLEY DAVIDSON MOTOR CO INC
HOLLISTER WHITNEY ELEVATOR
HUBBELL
HYDRO-GEAR
JW SPEAKER CORP
KOHLER CO
LIFE FITNESS
LOVEJOY INC
MASTER LOCK
MEDLINE INDUSTRIES
MITSUBISHI ELECTRIC
MOTOROLA SOLUTIONS
MTH PUMPS
NAVISTAR
NOKIA
NORLUX CORP
PARKER HANNIFIN
PENTAIR
PHILIPS
PRATER INDUSTRIES
ROBERT BOSCH TOOL CORP
ROCKWELL AUTOMATION
S&C ELECTRIC CO
SAGE PRODUCTS
SARIS CYCLING GROUP
STRATTEC SECURITY CORP
STRYKER MEDICAL
SUBURBAN SURGICAL CO
SWITCHCRAFT INC
TERADYNE
TERMAX CORP
WAHL CLIPPER CORP
WATLOW
WEBER STEPHEN PRODUCTS


Proven Results...
% Based on 2019 Schaumburg, IL Show
Attendee Profile
(Engineering, Purchasing, Corp. Mgmt.)
Final Decision
25.8%
Significant Influence
29.8%
Recommend Vendors
23.8%
79% Involved in the Decision to Outsource
Regional Attendance
| | |
| --- | --- |
| Schaumburg, IL 2019 | 2,125 |
| Schaumburg, IL 2018 | 2,000 |
| Schaumburg, IL 2017 | 2,120 |
| Schaumburg, IL 2016 | 2,221 |
Top Industries Represented
Automotive
14.1%
Electronics


Electronics Mfg., Computers/Subsystems Instrumentation & Controls

12.2%
Machinery
10.3%
Medical
5.4%
Aerospace/Aviation
5.3%
Transportation Equipment
3.2%

Energy/Utilities
3.0%
Appliance
2.5%
Hardware
2.4%