Why Exhibit?
Face-2-Face is the Most Cost Effective Way
to Develop New Customers
Texas

Design-2-Part Show
Grapevine (Dallas), TX • June 9 & 10, 2021
Gaylord Texan Convention Center
Wednesday 9:30 – 3:30 • Thursday 9:30 – 3:00
Market at a Glance:
Texas has led the nation in exports for the 17th year in a row! ~ Corridor News
Texas is home to more than 5,000 life science and research firms. Top Fortune 500 companies such as Kimberly-Clark and Celanese are based in Texas, while global industry leaders such as Abbott, Allergan, Galderma, Johnson & Johnson, McKesson and Novartis, among others, have major operations in the state. ~ Business in Texas
Aerospace Product/Parts Manufacturing and Pharmaceutical/Medical Manufacturing ranked in the top 2 as major manufacturing sectors for job growth in 2019. ~ NAM
Up-swing in Manufacturing post Coronavirus:
"As manufacturers emerge from the pandemic, the key once again centers on the spirit of innovation to help them thrive once more and to help the industry rebound. As one manufacturer recently stated in a Forbes article, 'We're looking at five years of innovation over the next 18 months.'" ~ Hartford Business
The latest Industrial Production and Capacity Utilization report from the Federal Reserve shows manufacturing production and output continued to recover in June. Industrial production rose 5.4% last month, following a slight gain in May of 1.4%. ~ Industry Week
"In June 2020, gains were mostly led by transportation equipment industry, followed by miscellaneous durable goods manufacturing; which shot up 25.5%. Plastics and rubber products also posted gains, adding 21,000 jobs, while machinery was closely behind at 17,000 new jobs. Furniture/textiles fared well adding 12,000 positions and fabricated metal products increased by 11,000 jobs." ~ Industry Select
"Nearly 50% of North American tooling shops are quoting on programs historically produced in China and 34% of production shops are increasing North American sourcing." ~ Mold Making Technology
According to the ISM, U.S. manufacturing activity shot up 9.5% in June to an expansionary level of 52.6% — the sharpest increase recorded since 1980. The ISM's Production Index skyrocketed 24.1% in June – an increase not seen since August 1952. The index now sits in expansion, measuring 57.3%. ~ IndustryNet
The Reshoring Initiative lists more than 1,800 companies that have reshored parts of their operations as of Jan. 1, 2019, including 3M, Apple, Dillard's, GM, KitchenAid, Oracle, Pfizer and Stanley Black & Decker. Going forward in light of COVID-19 risks, 64% of 879 North American manufacturing and industrial professionals said they were "likely to bring manufacturing production and sourcing back to North America," in a Thomas survey. ~ Supply Chain Dive
What to Expect
Our safety guidelines to ensure the safety of our exhibitors, attendees, and staff.
Cleaning and Sanitizing- Frequent disinfecting and surface cleaning in high traffic areas (such as check-in areas, service centers, labor desks and bathrooms). As well as additional sanitizer stations added throughout the show floor.
One-way traffic flow will be implemented throughout the floor plan with marked entrances and exits.
Paperless communication by utilizing our electronic lead retrieval system will be recommended to reduce sharing of printed materials.
Free on-site parking with easy break down, no union fees or extra drayage costs.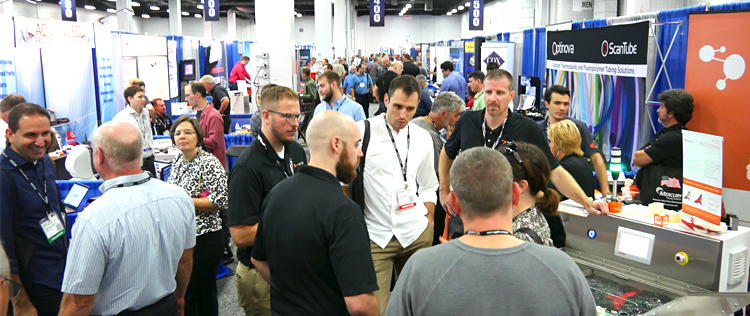 Promotional Radius to Include:
Texas, Oklahoma, Arkansas and Louisiana
Exclusive Promotion…
The only tradeshow in the region to exclusively feature exhibitors who specialize in design and contract manufacturing services
Partial List of
Regional Attendees
ABBOTT LABORATORIES
ALCON
ALPINE ITW
AMERICAN LEATHER
AMERICAN STANDARD
AMPHENOL FIBER SYS INTL
ARRICK ROBOTICS
BAKER HUGHES
BELL HELICOPTER TEXTRON
CHATSWORTH PRODUCTS
CISCO SYSTEMS
COMMSCOPE
CONTINENTAL AUTOMOTIVE SYS
CORNING OPTICAL
DELPHI
DELTA
EATON AEROSPACE
ELBIT SYSTEMS OF AMERICA
EMERSON
FIRST COMPANY
FUJITSU
GARRETT ELECTRONICS
GENERAL DYNAMICS
GENERAL MOTORS
H&K INTERNATIONAL
HALLIBURTON
HARMAN
KLEIN TOOLS
KONE ELEVATORS
KUBOTA TRACTOR CORP
L3 COMM
LAERDAL MEDICAL
LENNOX INTERNATIONAL
LOCKHEED MARTIN
LUMINATOR
MARLOW INDUSTRIES
MAXIM INTEGRATED
MCR OIL TOOLS
MEDTRONIC
NOKIA
OIL STATES INDUSTRIES
OPTEX SYSTEMS
PACKLESS INDUSTRIES
PANASONIC
PETERBILT MOTORS
QUEST MEDICAL
RAYTHEON
ROCHESTER GAUGES
SAFRAN
SANDEN INTERNATIONAL USA
SHERWIN WILLIAMS CO
SIEMENS
SIKORSKY AIRCRAFT CORP
STANDARD MOTOR PRODUCTS
TEXAS INSTRUMENTS
THYSSENKRUPP ELEVATOR
TRIUMPH AEROSTRUCTURES
WATCHGUARD INC
WHITMORE
ZODIAC AEROSPACE


Proven Results...
% Based on 2020 Grapevine Show
Attendee Profile
(Engineering, Purchasing, Corporate Managment)
Final Decision
35.6%
Significant Influence
27.4%
Recommend Vendors
20.4%
83% Involved in the Decision to Outsource
Regional Attendance
| | |
| --- | --- |
| Grapevine, TX 2020 | 1,854 |
| Grapevine, TX 2019 | 1,487 |
| Grapevine, TX 2018 | 1,229 |
| Grapevine, TX 2017 | 1,175 |
Top Industries Represented
Aerospace/Aviation
13.1%
Electronics
Electronics Mfg., Computers/Subsystems,
Instrumentation & Controls
8.9%
Automotive
5.2%
Machinery
3.9%
Energy/Utilities
3.8%
Telecommunications
3.7%
Medical
3.0%
Heating & Cooling
1.9%