Why Exhibit?
Face-2-Face is the Most Cost Effective Way
to Develop New Customers
Southeast

Design-2-Part Show
Atlanta, GA • May 26 & 27, 2021
Cobb Galleria Centre
Wednesday 9:30 – 3:00 • Thursday 9:30 – 3:00
Market at a Glance:
In 2019, Georgia ranked #2 in aerospace attractiveness. ~ PWC.com
Georgia is a national leader in advanced manufacturing, outpacing the U.S in 10-year GDP growth in the manufacture of products including machinery, electrical equipment & components, and fabricated metals. ~ Georgia.org
Several global and national leaders in the aerospace industry have a presence in Georgia, including Lockheed Martin, Gulfstream Aerospace and Meggitt Polymers & Composites. ~ Select Georgia
Up-swing in Manufacturing post Coronavirus:
"As manufacturers emerge from the pandemic, the key once again centers on the spirit of innovation to help them thrive once more and to help the industry rebound. As one manufacturer recently stated in a Forbes article, 'We're looking at five years of innovation over the next 18 months.'" ~ Hartford Business
The latest Industrial Production and Capacity Utilization report from the Federal Reserve shows manufacturing production and output continued to recover in June. Industrial production rose 5.4% last month, following a slight gain in May of 1.4%. ~ Industry Week
"In June 2020, gains were mostly led by transportation equipment industry, followed by miscellaneous durable goods manufacturing; which shot up 25.5%. Plastics and rubber products also posted gains, adding 21,000 jobs, while machinery was closely behind at 17,000 new jobs. Furniture/textiles fared well adding 12,000 positions and fabricated metal products increased by 11,000 jobs." ~ Industry Select
"Nearly 50% of North American tooling shops are quoting on programs historically produced in China and 34% of production shops are increasing North American sourcing." ~ Mold Making Technology
According to the ISM, U.S. manufacturing activity shot up 9.5% in June to an expansionary level of 52.6% — the sharpest increase recorded since 1980. The ISM's Production Index skyrocketed 24.1% in June – an increase not seen since August 1952. The index now sits in expansion, measuring 57.3%. ~ IndustryNet
The Reshoring Initiative lists more than 1,800 companies that have reshored parts of their operations as of Jan. 1, 2019, including 3M, Apple, Dillard's, GM, KitchenAid, Oracle, Pfizer and Stanley Black & Decker. Going forward in light of COVID-19 risks, 64% of 879 North American manufacturing and industrial professionals said they were "likely to bring manufacturing production and sourcing back to North America," in a Thomas survey. ~ Supply Chain Dive
What to Expect
Our safety guidelines to ensure the safety of our exhibitors, attendees, and staff.
Cleaning and Sanitizing- Frequent disinfecting and surface cleaning in high traffic areas (such as check-in areas, service centers, labor desks and bathrooms). As well as additional sanitizer stations added throughout the show floor.
One-way traffic flow will be implemented throughout the floor plan with marked entrances and exits.
Paperless communication by utilizing our electronic lead retrieval system will be recommended to reduce sharing of printed materials.
Paid parking with easy break down, no union fees or extra drayage costs.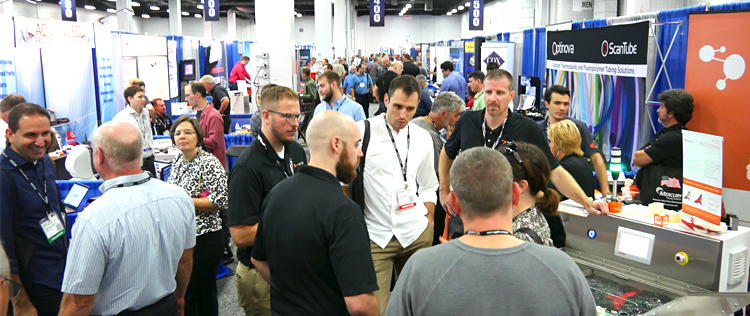 Promotional Radius to Include: Alabama, Florida, Georgia, North Carolina, South Carolina & Tennessee
Exclusive Promotion…
The only tradeshow in the region to exclusively feature exhibitors who specialize in design and contract manufacturing services
Easy Access to the Show…
The Cobb Galleria is located just inside the I-285 loop, offering visitors convenient access from the entire region. Click here to view a map of the area.
Partial List of
Regional Attendees
3D SYSTEMS
ABATEK AMERICAS INC
ACUITY BRANDS LIGHTING
AGCO CORPORATION
ALCON
ALPHA TECHNOLOGIES
AMENDIA
AMES TAPING TOOLS
ANB AVIATION
APEX TOOL GROUP
ATLAS COPCO
AVANOS MEDICAL
BELLWETHER INC
BLUE BIRD CORP
BOEING
CATERPILLAR
CHAMPION AEROSPACE
CHART INDUSTRIES
CHEMFREE CORPORATION
DANLEY SOUND LABS
DATAPATH
DIVERSITECH
DURACELL
EATON
EXIDE
FRICON USA
GE ENERGY
GENESIS CONNECTED SOLUTIONS
GS YUASA LITHIUM POWER
HANSGROHE INC
HITACHI AUTOMOTIVE SYSTEMS
HONDA MFG OF ALABAMA
HONEYWELL INTERNATIONAL
HOSHIZAKI AMERICA
KASON INDUSTRIES
KLIKLOK WOODMAN & BOSCH
KYSOR WARREN
LOCKHEED MARTIN
MAKITA CORP OF AMERICA
NEPTUNE TECHNOLOGY GROUP
NORDSON CORP
OMNI INTERNATIONAL
OSPREY CORPORATION
PANASONIC AUTOMOTIVE
PANDUIT CORP
PEACHTREE LIGHTING
POREX
PRICE INDUSTRIES
REHRIG PACIFIC COMPANY
RELIANCE WORLDWIDE CORP
REMINGTON MEDICAL
ROBERT BOSCH
ROSS CONTROLS
SEALED AIR
SIEMENS
TOTO USA
WIKA INSTRUMENTS
YAMAHA MOTOR CORP USA
YANMAR AMERICA
YOKOGAWA CORP AMERICA


Proven Results...
% Based on 2019 Atlanta, GA Show
Attendee Profile
(Engineering, Purchasing, Corporate Management)
Final Decision
31.6%
Significant Influence
28.3%
Recommend Vendors
20.0%
80% Involved in the Decision to Outsource
Regional Attendance
| | |
| --- | --- |
| Atlanta, GA 2019 | 1,314 |
| Atlanta, GA 2018 | 1,173 |
| Atlanta, GA 2017 | 1,078 |
Top Industries Represented
Electronics
Electronics Mfg., Computers/Subsystems,
Instrumentation & Controls
11.2%
Automotive
10.6%
Machinery
9.7%
Aerospace/Aviation
8.2%
Medical
6.8%
Transportation Equipment
3.8%

Energy/Utilities
3.5%
Government/Defense
2.3%
Hardware
2.0%